Watching the replay of Griffey Junior's 600th career home run lifted my spirits higher than the arc on his 413 foot blast to right field.
What a great moment for Junior, the Reds, Major League Baseball and all of sports.
As usual, Griffey served up his humble pie after the game, flashing his trademark smile and suggesting he never envisioned himself smacking 300 dingers, let alone the big 600.
Of course, baseball fans know better, even to the point we all agree the guy could be sitting at 700 home runs had it not be for an unfortunate string of injuries.
Unfortunately, the stage for Jr.'s 600th blast should have been better than Dolphins Stadium and its whopping crowd of 16,000 fans.
Heck, even the Rays' lowly stadium, just a few hours away in Tampa, would've been a better setting for such a milestone moment than the sandbox in Miami.
So, with Cincinnati beginning a nine-game homestand Tuesday, why didn't Dusty Baker sit Junior this evening and let him chase history in the Queen City?
After all, Reds fans were left to watch Griffey hit No. 400 in Colorado and No. 500 in St. Louis.
So instead of letting history take place on the road again, I wish Baker would have explained to the media that he sat Griffey due to 'general soreness' and to avoid the lefty vs. lefty matchup of Florida's starting pitcher Mark Hendrickson.
Besides the fact Griffey was 5-for-8 lifetime against the Marlins' southpaw, no one would have questioned the move. And even if someone did, who cares?
Not to mention, Reds fans could use a good reason to head out to the ballpark with the club closing in on its eighth consecutive losing season.
Plus, with Griffey sitting at No. 599 the Great American Ballpark was bound to draw a sell-out or two with nine-straight home games on the horizon.
But there's more to this moment than the business side of things. The city of Cincinnati and Griffey needed this moment to be shared together, a swan song for the perfect player whose celebrated homecoming never played out on the field as planned.
Instead, this special moment between Griffey and Cincinnati happened on a football field, a painted canvas of turquoise and orange instead of a sea of red.
Of course, there's nothing that can be done now, No. 600 already landed in Miami.
But perhaps, the organization might give Griffey a proper ceremony at home tomorrow night.
Although, that's asking a lot from an organization that hardly did anything worthy of promoting the event in the first place.
If anything, Reds fans deserve a few minutes to cheer its hometown hero in the hometown ballpark, even if No. 600 is after the fact.
1. Sun April 6th – Brett Myers – Great American Ballpark, Reds win 8-2
2. Tue April 15th – Ryan Dempster – Wrigley Field, Reds lose 9-5
3. Thur April 17th – Jon Lieber – Wrigley Field, Reds win 9-2
4. Wed April 23 – Chris Sampson – Great American Ballpark, Reds lose 9-3
5. Thur May 22 – Randy Wolf – PETCO Park, Reds lose 8-2.
6. Sat May 31 – Jair Jurrjens – Great American Ballpark, Reds win 8-7
7. Mon June 9 – Mark Hendrickson – Dolphins Stadium, Reds win 9-4
1 Barry Bonds – 762
2 Hank Aaron – 756
3 Babe Ruth – 714
4 Willie Mays – 660
5 Sammy Sosa – 609
6 Swingman – 600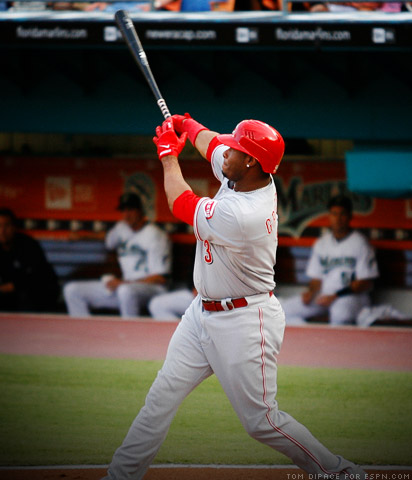 More articles on Junior's milestone achievement.
Even Griffey's video game was great!
[youtube="http://www.youtube.com/v/_FgSoB0X0yM&hl=en"></param><embed src="http://www.youtube.com/v/_FgSoB0X0yM&hl=en" type="application/x-shockwave-flash" width="425" height="344"></embed></object>]