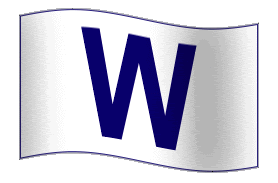 Wednesday July 2nd – AT&T Park
Game (85): Cubs 6 – Giants 5
Record (51-34) – 1st place NL Central
The skinny: This one makes no sense.
Ryan Dempster pitches six innings of two-run, seven strikeout baseball and leaves with a no-decision.
Carlos Marmol then enters in relief, allows a game-tying three-run jack, but gets the win.
And to top things off, it's little Mike "you know" Fontenot who goes deep in the eighth to put the Cubs back on top 6-5.
The blast gives Fontenot three home runs in his past six games played, which is interesting for a guy who slugged just three home runs in 86 games played last year.
Speaking of the long ball, how about another dinger for Edmonds, this time a two-run shot in the sixth.
That gives Jimmy eight home runs with the Cubbies and six blasts in his last 11 ballgames.
I've said it plenty of times, but I love what Edmonds is doing as a Cub and especially with the team's health in dire straights.
What's more impressive is Edmonds regaining his form at the plate while also dealing with a sore arch in his left foot.
Say what you will about the former Cardinal, but I'll always support a player who plays through pain and produces.
Also, since early May I've said the Cubs need an alternative in the bullpen to Marmol.
Mainly, at the time I was concerned with Carlos's durability holding up throughout the second half of the season.
Instead, it appears Marmol is dealing with a dip in self confidence and not his durability.
Either way, it's imperative Bob Howry takes over some setup duties while Marmol get situated between his ears, which is a condition Marmol has yet to face in Chicago.
The bottom line is the Cubs still won and keep its opportunity alive to take three of four on the road tomorrow.
Marmol (2-3) – Wood (21)
Walker (3-4)
Notes: Chicago evened its record in one-run games at (13-13).
Through eight road starts this season Ryan Dempster is still without a win.
Dempster's last road win came more than two years ago at St. Louis with Chicago winning 5-4.
Not to mention, Ryan's last road win as a starting pitcher dates all the way back to April 16th 2005 with the Cubs winning another one-run ballgame beating Pittsburgh 4-3.
Entering June Carlos Marmol sported a 1.75 ERA in a hefty 36 innings pitched.
However, in the last two weeks Marmol has allowed nine runs during his past six outings.
Kerry Wood hasn't allowed a run in 15 of his past 16 appearances.