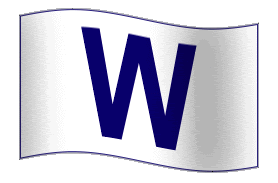 Tuesday July 8th – Wrigley Field
Game (90): Cubs 7 – Reds 3
Record (54-36) – 1st place NL Central
The skinny: This evening I sat nine rows behind the Reds dugout at Wrigley.
You guessed it, these aren't my season tickets, but it's pays to have friends doesn't it!
Anyway, it was a wonderful night all around; 82-degrees, beautiful sunset and Dempster notches his 10th win before the All Star break.
Something is definitely not right with the Reds' right-hander Aaron Harang.
It's pretty clear after Harang posted a career-high seven walks and allows the two home runs.
If you're not already aware, Harang has developed into one of the best starting pitchers in baseball, until this year, of course.
Which, brings to the surface obvious concerns about his health considering his awful (3-11) record in '08.

Just looking at Harang's numbers from the past three seasons says the ol' throwing arm is hurting.

2005 – (11-13) – 211 IP, 163 K

2006 – (16-11) – 234 IP, 216 K

2007 – (16-6) – 231 IP, 218 K

Maybe all the innings are finally catching up to the hoss?
After all, he's averaged 225 IP during this span, now that's a lot of work!
Reds fans are pointing the blame Dusty, and I'm one of them too.
Why Baker threw Harang in relief for 4.1 innings during the Reds' 12-9, 18-innings loss at San Diego on Sunday May 25th is beyond me.
Seriously, Aaron previously started the series' opener three days earlier tossing 103 pitches against the Pads.

Worse, Harang's relief outing also marked the third time the tall right-hander threw in eight days.
Now there's rumblings Harang might be headed for Tommy John surgery before the end of the regular season.
Are Harang's difficulties Dusty's fault? Partly, yeah.
Look, I'm a Dusty guy, but throwing Aaron in the S.D. game was DUMB!!!
You can't be careless with your staff ace.
The Reds are still a year away from truly competing, and that's only if they have a healthy Harang.
And, as far as I'm concerned, Dusty jepordized next year…not smart, not good.

On the other hand, Dempster dominated again at home.
The only offense Cincinnati mustered off the former Reds is what Dempster handed them in the fourth, one single and three free passes while walking in a run.
Other than his one bad inning, Ryan allowed just two hits while striking out five.
Don't overlook the defense behind Dempster tonight either.
Jerry Hairston Jr. was robbed of a hit on three occasions: Ramirez twice and Theriot once.
Plus, Edmonds made a fine defensive stab in center during the first.
DEFENSE MATTERS!!!
Brandon Phillips is the most gifted second baseman defensively in the NL, he turned in two more gems tonight.
Things I overheard in the seats this evening:
Dunn, get off the field you big lug!
And, I love that Marmol enters the game to the song "Rubberband Man," how fitting.
Things I saw at the game:
Inebriated Reds fan in the front row taking off his shirt in unleashing the hairiest belly I've seen this side of Bigfoot.
Two elderly men googling over a busty cougar.
Griffey sharing a conversation between innings over the dugout with both Reds and Cubs fans.
Dempster (10-3)
Harang (3-11)
Notes: In his last eight home starts Dempster is 7-0 with a 2.08 ERA.
The right-hander

is also the first Cubs pitcher since Rick Reuschel in 1977 to win his first 10 decisions at home.
Speaking of 1977, that's the last time the Cubs won 54 games before the All Star break.
The Cubs are 34-10 at Wrigley.
Mike Piazza holds the rookie record for home runs by a catcher with 18 in 1993 with the Dodgers; Geovany Soto hit his 16th of the season this evening.
CSI's John Peterson sang the stretch.