So who plays the lead in the inevitable Josh Hamilton movie?
I'll take Dennis Quaid who did a fine job with his portrayal of Jim Morris in The Rookie (2002).
Plus, Dennis is a natural lefty and has some resemblance physically to Hamilton as well.
Not to mention, Quaid, like Hamilton, also battled his own addiction to cocaine in the early 1990s.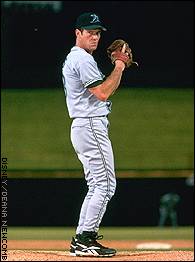 My runner up is Edward Burns (27 Dresses & The Gift).
Not sure what Ed can do on the baseball diamond, but I think he can pass for Hamilton in Hollywood.
Anyway, thanks to Hamilton's national breakthrough in tonight's Home Run Derby, poor Justin Morneau will simple be a foot note in the contest by next year's Mid-Summer Classic.
And, 10 years from now (if that) naming the winner of tonight's derby will be an easy bar bet for those who can remember the actual winner of the contest.
What's also interesting is Morneau admitting his participation in last year's derby threw off his timing at the plate during the second half of the season: 24 bombs before the break and just seven afterwards.
This is eerily similar to what happened with Bobby Abreu after his immortal performance in the 2005 derby at Comerica Park in Detroit: 18 home runs before the break and just six the remainder of the season.
Furthermore, a year later the Mets' David Wright finished second in the derby and then capped off the second half of the season swatting a mere six home runs the rest of the way.
So, is Hamilton in for a power outage during the second half? Who knows?
Although, I wouldn't bet on it.
Instead, my money is on Hamilton winning the MVP honors tomorrow night.
After all, it's an even numbered year meaning a Rangers' player is due: 2004 MVP – Alfonso Soriano & 2006 MVP – Michael Young.
Notes: Hamilton has a stolen base in a career-high three straight games.
Wednesday night Hamilton hit his first career walk-off home run against the Angels' Francisco Rodriguez.
He also ranks among the AL leaders:
Tied for 1st with 9 sac flies and multi-hit games (38)
Tied for 4th in hits (117), extra base hits (46) and slugging percentage (.588)
And he became the first player in AL history to win the league's Player of the Month Award (April & May) for each of his first two months in a season.
"I remember seeing him taking BP with the Devil Rays in 2000 during spring training, and I was like, Who's that?" "He was 18 years old and hitting balls farther than anyone else. I went up and introduced myself, and I said, 'That's one of the greatest swings I've ever seen.' I don't think I've ever done that [with anyone else] my whole career." – Boston 1B Sean Casey
"The ball just sounds different coming off his bat, almost like a gunshot," "You watch him track down a ball, you watch him throw a guy out at third. Then he hits a ball down the line and gets a triple, and it's like, The guy can run too?" – A's LHP Greg Smith