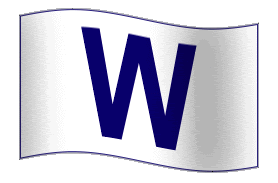 Monday July 28th – Miller Park
Game (106): Cubs 6 – Brewers 4
Record (62-44) – 1st place NL Central
20-Games in 20-Days – (5-6)
The skinny: Playoff games typically come down to pitching and defense.
So, it's no surprise tonight's playoff-like matchup was determined by both.
Had it not been for Rickie Weeks' throwing error in the seventh, the Cubs probably come out with the short end of the stick.
Nonetheless, the Cubbies found a way to win, and that's what good teams do.
The Cubs' lineup worked CC Sabathia – 124 pitches – for 4 runs on 9 hits with 3 stolen bases and just three punch outs.
That's a helluva job considering CC was (4-0) with a 1.36 ERA since joining Milwaukee.
Still, CC isn't the only obstacle the Cubs have to conquer in this four-game series.
The Brewers post the second best home record in the NL (32-20), lead the NL Central in divisional games with a (28-19) record, and flaunted a (22-11) record against lefties entering tonight's game.
Not to mention, the Brew Crew also leads the majors with (20) wins in its final at-bat and have the support of 'Brewers Fever' in Miller Park: tonight set a franchise record of eight straight sellouts.
Anyway, Lilly pitched well again on the road; walking just one batter, striking out four and kept the Cubs in the game into the seventh inning.
Lilly gets overlooked on this staff headlined by Zambrano, Dempster and Harden, but the lefty has been a godsend away from Wrigley and on a team that's seven games under on the road (23-30).
In Lilly's last three road starts entering tonight's outing he's (3-0) with a 2.18 ERA, and (5-3) overall away from home.
Really, the only downside to Lilly's campaign has been his knack for allowing the long ball.
So, how fitting Hardy and Braun go back-to-back in the sixth to tie the game 2-all.
In 23 starts this season Lilly has served up 25 dingers, including the two this evening, and that's just three short of his season total from a year ago (28).
Nonetheless, the guy has been wonderful in my opinion, home or away.
Speaking of road games, as of late the Cubs have played better away from the Friendly Confines.
In the last nine road series the club has posted a (3-4-2) mark, which, has been improvement enough to keep them atop the NL Central for 11 weeks.
However, with the way the Central is shaping up, this tally needs to withstand a (.500) winning percentage in the final two months.
And, for the Cubs to reach such mediocrity, they'll need the return of its big-bats in the lineup.
Thankfully, D. Lee showed up this evening to capture the glory going 3-for-5 with 3-RBIs, but he was also a bad throw away from padding his NL lead of GIDP.
Still, give the man some credit for putting the ball in play, even if Weeks should have turned the hit into two outs, and his game-winning double in the ninth.
And, despite his recent subpar homestand (4-for-18), Lee is batting (.326 avg.) in July (32-for-98) and has also managed 47 hits in his last 34 games.
On the contrary, Lee's late inning heroics shouldn't have been necessary with the Cubs leading by one-run entering the seventh.
Hello Bob Howry – a.k.a. – the weak link.
Seriously, I'm speechless.
And all I have to say about Howry can be read here.
Should be another heart-stopper tomorrow night: Zambrano vs. Sheets.
Now, let's just hope Lou doesn't phone Howry
W – Gaudin (7-4) – Marmol (5)
L – Torres (5-3)
Notes: The Cubs have not played a series at Miller Park since June 4-6th, 2007, Chicago won two of three.
In games decided by two or fewer runs the Cubs are (26-29).
In the last two games Soriano is 5-for-9 with a HR and five runs scored.
Since beginning the season (0-3) with Cleveland, CC Sabathia has rebounded to go (10-5) with a sparkling ERA just above 2.00.