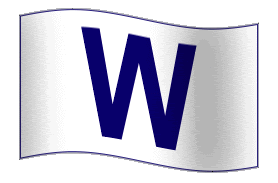 Thursday August 21st – Wrigley Field
Game (127): Cubs 3 – Reds 2
Record (78-49) – 1st place NL Central
The skinny: Pulled a Ferris Bueller and went to the Cubs game this afternoon. I sat nine rows behind the Reds dugout, courtesy tickets from a friend.
It's good to have friends, isn't it?
Unless I'm sitting in the bleachers I always seem to enter Wrigley through the main gate underneath the giant red marquee.
I'd like to think as a seasoned baseball fan I'd sniff out the best deal for a brat long before today, but I haven't, until now of course.
Hidden just inside the gate to the right is a food station called 'Super Dawgs.'
Get this, a foot long brat for $6.50, all toppings included.
I went bratwurst with grilled peppers, hot peppers, mustard and relish, all for $6.50.
Grab a regular hotdog at one of the main stations and you're paying $4.50.
Kind of makes me feel like I won one.
Thankfully the weather held off too, the slight drizzle not enough to make me vacate my seat.
Big Z pretty much handled business on both fronts: 1-R, 6-H in 7-IP and smacked his fourth dinger of the season in the third inning.
And despite a monstrous blast from Jay Bruce, Carlos Marmol and Wood did a nice job closing too.
Because it's the Reds this win will be forgotten about as quickly as it ended, but it's an important victory.
The Cubs must take advantage of its home-heavy month of August and needed the series win against the last place Red Stockings.
After all, the Reds went 0-for-15 with RISP during the three-game set, and that doesn't happen too frequently.
How typical for the last place Reds to pay Josh Fogg to pitch (2-6, 7.66 ERA).
He's even below the right-handed equivalent of an Eric Milton.
Nonetheless, the Reds' newest outfielder Chris Dickerson looks like a real stud: big, strong and fast.
That's a heckuva of an outfield with Bruce, Dickerson and Hairston (when back off the DL).
Anyway, back to reality tomorrow, it's called work for a reason, right?
W – Zambrano (13-5) – Wood (26)
L – Fogg (2-6)
Notes: Zambrano now has 16 career home runs, five have come against Cincinnati.
Besides his 13 wins – (4-0) vs. Cincy – the switch hitter also extended his hitting streak to seven games.
Derek Lee a.k.a "DP Lee," hit into his league leading 24th twin killing.
Joey Votto has 15 home runs this season, including a solo shot in the 8th this afternoon, seven have come against Chicago.
Best marquee sign of the day from Clark St: Without Griffey Reds are Dunn.