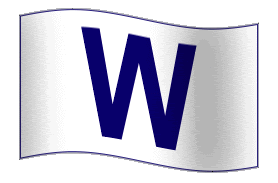 Saturday September 6th – Great American Ballpark
Game (142): Cubs 14 – Reds 9
Record (86-56) – 1st place NL Central
The skinny: The Cubs are back!!!
14 runs, 18 hits, YES, YES, YES!
And boy oh boy, does it feel good to fly the 'W' flag again!
Soriano's 8-year $136 million dollar deal makes him 'THE MAN' in this lineup whether he wants to believe so or not.
In the end, when the Cubs are struggling he's the guy everyone looks at to shoulder the load, period.
Sure, there's Aramis, Lee, Soto and Edmonds that can -and have- carry this club too, but it's Alfonso's duty when the team is mired in a six game losing streak.
Besides, Soriano's performance tonight single handedly abolished the team's slump, and how many players in the league can do that? Not many.
Today, Sori was worth every penny at the plate: 3-HRs while tying a career high of 4 runs scored and five RBIs.
Not to mention, last year the guy was money in September as well: (.320 avg), 14 HR…and the Cubs need him more than ever this September to help break the team out of its recent offensive funk.
Speaking of which, Micah Hoffpauir replacing Fukudome in right field is not an off day for Kosuke, it's a benching.
Kosuke batted (.193 avg.) in August and is hitting 44-for-202 (.218 avg.) in his last 61 games.
At this point Lou has no choice but to find another bat, especially considering the team's lack of offense during the recent six-game slide.
On the other hand, I hate to see Fukudome's superior defense sitting on the bench as well, but again, what's Lou to do?
Also, another solid game from Marquis whose improved his road record to (6-2) in his last nine starts and has lasted 6+ innings in his last 10 starts overall.
Who'd of thunk it two months ago, but Marquis might be a huge player come October if Zambrano and Hardin can't shake the injury bug.
Of course, that doesn't seem too terrible now, but let's hope it doesn't come to that either.
For the time being, what's most important is that the Cubs take the rubber match against Cincy tomorrow.
From here on out Chicago won't face another club sub .500 the rest of the season…and there's only one homestand (6 games) left at Wrigley.
W – Marquis (10-8)
L – Cueto (8-13)
Notes: Today's win marks Marquis' 5th consecutive season of 10 or more wins.
The right-hander's eighth inning home run against Gary Majewski is the 8th of his career.
Chicago

's five team home runs ties the club's season high.
Soriano is the 38th player in Cubs history to notch a three-homer game.
He's also just the sixth player in Cubs history to manage multiply 3-HR games:
Sammy (6), Banks (4), Kingman (3), Aramis (2) and Sauer (2).
How many more runs (7) would the Cubs' pen have allowed if Howry pitched this evening?