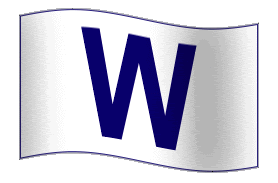 Wednesday September 10th – Busch Stadium
Game (145): Cubs 4 – Cards 3
Record (87-58) – 1st place NL Central
The skinny: Obviously, Lilly's effort on the mound was the difference in tonight's game.
But, in an odd sort of way, I think Lilly plowing over catcher Yadier Molina was his best delivery of the night!
Sure, it's more than a risky move by Lilly – leading with his throwing shoulder into a man that's 220+ lbs and covered in protective gear – with the playoffs looming, but I have no doubt it sent a spark through the Cubs' dugout.
Am I silly enough to believe a defense tries harder behind a pitcher who's willing to take one for the team? You bet!
And despite Lilly's last outing of just 2.0 innings against Cincy, he's still (8-4) in his 17 road starts while allowing 3 or fewer runs in 12 of those outings.
Speaking of defense, any question why Felipe Lopez is with his third team in the last three years?
Try an average of 20 errors per season since 2006 (Cincinnati, Washington & St. Louis).
DEFENSE MATTERS!
And again, why do teams still run against Soriano???
The Cardinals ran themselves out of the third inning sending Izturis home on Pujols' single.
Hold Izturis and the Cards put Lilly on the ropes with runners at third and first; next up is the (.296 avg., 32 HR -at the time) hitting Ryan Ludwick.
Thankfully, Ludwick never gets the opportunity to cash in like he did in the ninth against Woody.
Not long ago I said Aramis was my leading vote getter to earn the Cubs' MVP Award.
I'm making it official as of tonight…Aramis leads the team in RBIs with 103 including having driven in 48 runners in his past 57 games.
Better still, the guy comes through in the clutch, 27 two-out RBIs.
Not too concerned with Wood in the ninth, he should be attacking hitters with a three run lead.
Besides, a save is a save, and Kerry has converted 25 of his last 27 opportunities.
It's a huge win, takes pressure off the whole team and it sets Hardin up nicely to clinch the series tomorrow.
Not to mention, Houston is the hottest team in the NL, three upcoming games in the Juice Box won't come easily.
W – Lilly (14-9) – Wood (29)
L – Looper (12-12)
Notes: D. Lee's (169) hits is 2nd in the N.L. only to Pujols' (170).
Derek has also hit safely in 23 of his past 31 games.
Lilly is one win shy of his third consecutive 15 win season.