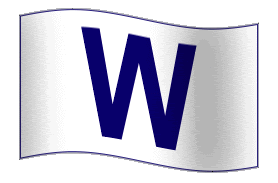 Sunday September 14th – Miller Park
Game (147): Cubs 5 – Astros 0
Record (89-58) – 1st place NL Central
The skinny: 110 pitches, 73 for strikes, NO HITS!!!
Great day for Zambrano. Great day for Cubs fans!

From the seventh inning on, I paced back and forth in front of the television like a caged lion, waiting on edge for Z's next pitch.
Theriot waiting for the long-hop off Castillo's grounder about did me in, I'm talking down on hands and knees!

But at long last, Erstad swings and misses and the Cubs' have its first no-hitter in 36 years!!!
Props to Carlos for keeping it together mentally. If only this would last…
The talent, of course, has always been there. Mentally, not so much. If only…

Anyway, loved WGN playing Van Halen's "On Top of the World" as the Cubs celebrated.
[youtube="http://www.youtube.com/v/lAoL7kAdYxE&hl=en&fs=1"></param><param name="allowFullScreen" value="true"></param><embed src="http://www.youtube.com/v/lAoL7kAdYxE&hl=en&fs=1" type="application/x-shockwave-flash" allowfullscreen="true" width="425" height="344"></embed></object>]
The Cubs needed something special from its ace with the pressure of the division race building. Eight innings of three runs or less would've got the job done. So we can only hope a no-hitter adds a little extra steam to the playoff push.

Remember, September has been tough on the Cubs, no Harden, no Zambrano, and a nine-game losing streak.
Meanwhile, it seems the only team playing worse than Chicago is Milwaukee, thankfully.
What a day to be a Brewers fan.
The Crew drops four straight at Philly, falls into a tie for the Wild Card, and watches the hated Cubs celebrates a no-hitter on their home field.
So, how about that Aaron Rodgers guy?
W – Zambrano (14-5)
L – Wolf (10-12)
Notes: Zambrano's Line: 9 IP, 0-R, 0-H & 10 Ks.
Carlos retired the final 13 batters he faced.
Michael Bourne drew the only walk against Carlos in the fourth with one out: the next batter, Miguel Tejada, grounded into a double play.
In the fifth Zambrano plunked Hunter Pence with two outs, David Newhan followed by lining out to D. Lee ending the inning.
Carlos also went 1-for-3 with a single in the third inning; he later scored on Lee's double to right.
Soriano's lead off homerun is his 28th this season and the 49th leadoff bomb of his career.