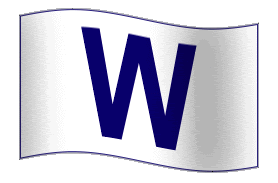 Thursday September 18th – Wrigley Field
Game (151): Cubbies 7 – Brew Crew 6
Record (92-59) – 1st place NL Central
The skinny: You can just tell the Cubs see the finish line.
The team's four run ninth had everything to do with not giving in, not wanting to lose.
And it's a beautiful thing to watch day-in and day-out!
Can't get enough of Aramis either…no questioning the fact he's the Cubs' MVP in the lineup this season.
Going 2-for-4 today, Aramis is now 7-for-11 on the homestand including 2 HR, 4 RBIs, 4-R, 3 2B, & 2-BB.
He also extends his hitting streak to 10 games batting 18-for-40 during the streak.
And, in his last 23 games Ramirez has 6 HR and 26 RBIs which, includes (3) three-run jacks and a grand salami.
Not to forget, his two-out double in the ninth kept the Cubs alive for big Geo's moment of glory.
MONEY, MONEY, MONEY!!!
And while we're handing out awards, Geo gets rookie of the year too, his game-tying three-run bomb in the ninth seals the deal.
The catcher's overall numbers stand at (.285 avg.) 23 HR & 86 RBIs. What's to argue?
Also, D. Lee needed this game-winning hit more than any other player in this Cubs lineup.
Yes, Lee has been consistently good at getting on base, but it seems his clutch plate appearances always end with a weak fly out to right field or a rally-killing double play ball.
Recently though, Lee has been building up for a big hit that finally came in the 12th this afternoon.
Derek has three extra base hits in his last four games, has driven in five RBI in his last six contests and improved his hitting streak to five games.
Not in favor of home plate umpire Ed Rapuano's decision to toss Edmonds in the middle of an at-bat.
Clearly, both pitches to Jim were outside…close, yes, but outside.
And sure, Edmonds has every right to quip about the calls…his bread and butter is driving the ball the other way…the game is on the line…so, if the pitches are outside say something!
Besides, that's what Lou expects from his players, and especially from a long time veteran like Edmonds.
And more, two of Edmonds last five hits are home runs…so; losing Jim to Felix Pie is a huge turn of events at the dish.
Today is a prime example of why I continually scream DEFENSE MATTERS!
DeRosa's botched double play ball in the sixth kept the door open for Milwaukee to tack on four runs, all unearned.
And, if it's not for the Cubs' miraculous comeback, that's the deciding play in the game.
On the flip side, DeRo has been huge for this team playing six different positions while committing just 11 errors overall.
Why do teams still run against Soriano???
Not that I mind, but WHY, WHY, WHY???
What do the advance scouts see with Alfonso's arm that I don't?
Obviously, not the best outing from Harden…115 pitches, 7 walks, but he did keep himself and the Cubs in position to win the game.
Still, I'm far from being too critical about Rich: 5 of his 11 starts have been quality outings, he's allowed just 12 ER in 65 IP, and he's (5-1) overall with Chicago.
All this being said, there's not a Cubs fan alive who'll forget this game, how could you?
The ninth inning rally with two outs, Geo's smash of a home run, Wood working out of two jams in extras, Edmonds getting tossed and D. Lee's game-winning hit!
It's a beautiful thing!!!
W – Wood (5-4)
L – Villanueva (4-7)
Notes: The Cubs have won 9 of its last 10 rubber matches.
Harden made his 100 career start this afternoon.
In Oakland the right-hander made 89 starts going (36-19).
Against the N.L. Harden has a career (10-2) record.
53 of the Cubs 92 wins have come at Wrigley.
Chicago

lead the NL in runs scored with (803).
Big Geo has reached base safely 42 times in his last 29 games.