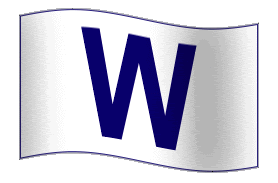 Wednesday September 24th – Shea Stadium
Game (157): Cubs 9 – Mets 6
The skinny: After Zambrano tossed his no-hitter I had the feeling his monumental achievement would help mellow the guy out on the mound.
Sometimes I sense the right-hander doesn't feel appreciated by his peers around baseball, that Z' is bothered by the fact he's not always mentioned in the same breath as Santana, Webb, Sabathia or Chamberlain.
Sure, Zambrano has the numbers: (96-61) career record, 1,170+ K's, and (51) road victories since 2002, second only to Johan Santana's (52).
But, his irrational behavior when an inning goes astray makes him look more like a fool than a staff ace.
Perhaps, I thought, the 'no-no' against Houston would change all that, relieve Carlos of his self inflicted pressure to become a 'recognized' ace throughout the baseball world.
Essentially, the no-hitter would put Zambrano on the map, permanently.
Well, that's turned out to be more wishful thinking than true.
And, Carlos has only himself to blame.
Plus, Z's own refusal to address his ridiculous behavior on the mound seriously puts his future career in jeopardy, as well.
Eventually, the electric bullets in Z's right arm will dwindle and he'll stand at the cross road of becoming either extinct or becoming a true pitcher, a hurler who outthinks hitters rather than overpowering them.
That takes mental toughness, not fit throwing antics.
All the great ones make a turn towards learning how to pitch: Maddox, Glavine, Smoltz, Mussina, Pedro..ext.
This is Carlos' seventh season in the bigs; learning how to handle adversity should be a thing of the past.
The fault lies completely with Carlos, and especially considering his willingness to ignore the advice of his own great manager to mature as a pitcher.
[ Lou ]:
"I wish he would just quit fighting himself out there and just relax and pitch and have fun,"
"He gets angry when he doesn't do what he expects to do. It detracts from his ability.
I've tried to tell him that so many times

.
He understands when I tell him, and I think he forgets when he pitches."
It's not that Z' forgets, people, it's that he simple doesn't care.
And, that's too bad given his tremendous ability to throw a baseball.
And more, is it crazy-talk to suggest Lou could sport an NLDS rotation with Z' as the No. 4 starter?
Dempster in game 1, Harden game 2 and Lilly game 3?
Bob Howry escaping a leadoff triple in the ninth is a sports miracle…seriously, did that really happen?
Talked about the importance of Theriot getting on base yesterday…Ryan singles in the 10th, steals second and scores the go-ahead run after a nice piece of hitting on D. Lee's part.
Again, no player is more clutch in this Cubs' lineup than Aramis.
Not at all pleased with Cedeno's play tonight…tardy to cover first on a bunt and then slides into first base trying to beat out an infield hit.
If I were a manager I'd fine players who slide into first…run through the bag, it's faster than sliding!
I'll admit to empathizing with Mets fans tonight, well, just a little anyway.
First, the Mets blow an early 5-1 lead, then fail to score the game-winning run after a leadoff triple in the ninth against the dreadful Bob Howry.
Cubs fans have already forgotten about this game, whereas this loss might cost the Mets its chance at winning the NL East or the Wild Card.
It's a bad feeling, one Chicago fans are far too familiar with.
W – Howry (7-5) – Wood (34)
L – Ayala (2-10)
Notes: Zambrano is (7-5) in 14 starts away from Wrigley this year; no decision tonight.
Chicago

's (38-19) record is the best in baseball during the past two calendar months.
The team is (10-6) in extras this season.
Lou becomes just the 14th skipper all-time to earn 1,700 big league wins.
Piniella is also just the second manager in history to achieve 90+ wins with four different clubs: Yankees, Reds, Mariners & Cubs.
Dick Williams was the first to turn the trick: Red Sox, A's, Expos & Padres.