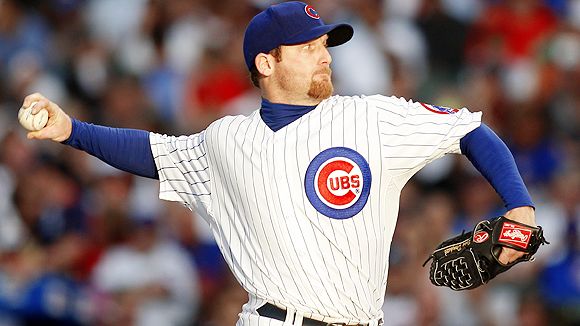 Carlos Zambrano is feeding off Ryan Dempster.
Z shows up at spring camp 15 lbs lighter than last year.
He says he's more flexible, faster and fit.
Sounds like Dempster's story from a year ago.
Now we know how tough it was for Z to watch Demps steal his thunder in '08.
Remember that Zambrano has been top-dog on this staff for years, and has been without threat since Maddux won (16) in 2004.
However, last year Dempster became more than a threat to Z, he earned the title of pack leader.
And we can see Carlos is fighting back, working hard to insure there's no question about who the Cubs' ace is.
Of course, it won't be that easy, Dempster has been on a personal mission since transitioning from closer to starter last season, and Ted Lilly is a pinch of luck away from being a 20-game winner.
All said, the competition for top-dog is good for both Carlos and the Cubs.
Understand that it's a favorable situation anytime you surround yourself with good people with positive influences.
It's only natural to want to be like them, to share and enjoy their successes.
And now that Dempster has done his part, it's Z's turn to inspire.