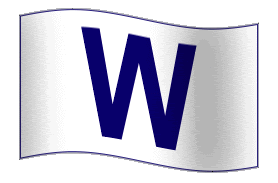 I'm wondering if Lou was just posturing this winter about moving Soriano down in the lineup.
Was the skipper's intention all along to play a simple little mind game with Sori, merely planting a small reminder in Alfonso's brain that they're other options for the Cubs at leadoff?
Six weeks of Spring Training and we can count on one hand how many games Sori didn't bat out of the No.1 hole. And if Lou truly wanted to test Soriano elsewhere in the order wouldn't we have seen more of that in Arizona?
Too late for that now after tonight's leadoff home run. Whatever the case, Fonsi played as if he still needs to earn the leadoff job and that's a good thing.
Aramis doesn't get the props around MLB he deserves. I think it's because he was labeled a sub-par defensive third baseman with the Pirates…a label that followed him to Chicago as well. But during the last three years he's been terrific defensively.
Set the defense aside, however, and there's no reason his offense should be under appreciated, especially his knack for coming through in the clutch. And get this, since 2001 no third baseman has hit more home runs than Ramirez's 236…second on the list is Troy Glaus (207), then A-Fraud's (203).
Milton Bradley tweaking the ankle, scary!
Big first step for Z getting the Opening Day monkey off his back. I really want to believe he's improved his mental game, which is the only thing keeping him from reaching his potential of being a Cy Young Award winner.
That said, I've wanted to believe this for a few seasons now. No dice. So will this year be any different? Let's see how the ace responds after a poor outing. For now, excellent first outing.
Notes: Cubs (1-0) – Tied for 1st
W: Zambrano (1-0) –

L: Oswalt (0-1) – S: Gregg (1)

Cubs are (74-58-2) all-time in Opening Day games.
When opening on the road they're (45-37).
As a manager Lou is (12-9) on Opening Day.
Aramis' solo blast is the 250th bomb of his career.
His next HR will be his 175 with Chicago, moving him past Andre Dawson into 10th place on the Cubs all-time HR list.