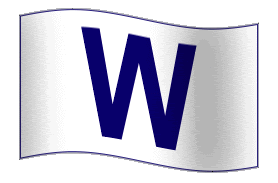 Obviously, Fukudome needed the breakout game he put together. Still don't like him in the two-hole, though.
I'd rather see him bat below Theriot and in front of Hill. That said, he's bought himself another game in the starting lineup.
Fontenot looks terrific at the plate, as many expected. Yet, I'll admit this winter I was hesitant to anoint him the starting second baseman.Wasn't sure if his numbers would keep up with his small – no pun intended – sample size at the dish. Apparently, they will.
Milton Bradley: three walks, two runs scored. Love it!
Aramis follows M.B. with four RBIs!
D. Lee K's three times and leaves six on base.
Can't say I'm surprised Lilly struggled. He was slow out of the gate last year and fell behind this spring at the WBC.
Last year the early challenge was arm strength, this year it's location. Either way, he looked awful in New York last weekend and only benefited last night from a boat load of early runs.
If the Cubs don't put up an eight spot in the first two innings Ted is long gone before the fifth.
Now what to expect if the wind is blowing out during Lilly's first start at Wrigley: six, seven, eight HRs allowed?
Why not push the lefty back in the rotation a start? Let Ted find his bearings and then bring him back in 10 days.
Guzman has two scoreless innings under his belt. At this rate he'll be a valuable addition to any trade package the Cubs can offer S.D. for Peavy…or another team for that matter.
This win is two fold for the Cubs…helps remove the sting from yesterday's extra innings loss and wraps up an early season series win on the road.
Notes: Cubs (2-1) – Tied for 1st
W: Lilly (1-0) L: Moehler (0-1)
The Cubs last series win to begin a season came during 2003 against New York.
Aramis has 12 RBIs in his last 10 games played at Minute Maid.