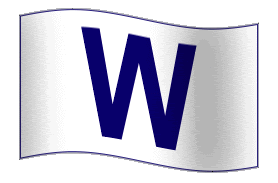 Feels like the Cubs stole one tonight. That's two clutch home runs from Sori in five games: Tuesday's shot tied the game in Houston and tonight's won it.
Old school Lou gives Cotts an earful after walking his batter in the seventh. New school Lou sends Rothschild to the mound to change pitchers. Either way, Lou gets his message across, which is the important thing.
Cubs have held a lead in every game this season, but the bullpen walks have to be addressed. Free passes cost Chicago a win Thursday, nearly did the same this evening as well.
And this speaks to the 118 pitches Z threw in just his second start of the season. But again, Lou knows he can't rely on the pen right now in tight ballgames. That's a major concern.
You have to believe Hendry is looking elsewhere for quality relief pitching. Giving the lead to Marmol and Gregg is crucial. Asking both to save games with men on base every game isn't going to work either.
Marmol against Braun in the ninth was terrific drama! Then is gets ramped up with Fielder at the dish. Either batter can end the game with one swing. Marmol K's both with sliders…Fielder staring on a 3-2 count!!!
Aramis posing like Soriano on his HR? If that ball doesn't leave the yard Ramirez is left standing at first like a fool. No reason not to be hustling around the base with Chicago trailing by two runs.
Why not move Aramis to the three-hole? He's reached base safely in each game, is (7-for-21) with 2 HRs and 6 RBIs. Derek Lee is (2-for-22) with 2 RBIs…and no home runs!
Lee saves more runs defensively at first than he drives in, which is significant, except when you're the three-hole hitter. And if Hoffpauir could hold his own at first he'd steal some playing time from D-Lee. But that's not the case. Move Derek down in the order and there's nothing to gripe about.
How about Fukudome! His two hits makes him (8-for-19) including his second bomb of the year. Love it!
Don't underestimate the importance of winning divisional games, even if they're ugly wins like tonight. These games go a long way in repeating as division champs.
Notes: Cubs (3-2) Tied 1st
W: Heilman (1-0) L: Villanueva (1-1) S: Marmol (1)



Zambrano entered the game (4-0) with a 1.47 ERA in his last four games at Miller Park.
Aramis' home run is his 175th with Chicago.



That moves him past Andre Dawson on the Cubs' all-time HR list.