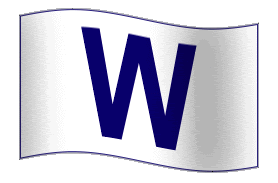 Reed's terrific catch tops his grab from a year ago in Washington! Love the fact Prince tips his cap to Johnson after the play too.
Johnson replaces Bradley who's lasted a whopping six games before suffering an injury. Now Lou probably sits M.B. for a couple of games, which is ideal if it keeps him off the DL.
Here's the rub against Soriano: when he's Hot he's HOT…and when he's Not he's Not. It's a give-and-take that's hard for fans to adjust too – including myself.
Savor the flavor because Sori won't stay red-hot forever…but when he's on he can carry the Cubs for weeks at a time.
Ideally, I move Soriano down in the order, but there's no moving him now. And, don't fix what isn't broke…October notwithstanding.
Who's worse defensively, Braun or Soriano???
By the numbers this wasn't a solid outing by Dempster. Yet, the key is Demps found a way to win without his best stuff, which is the mark of a top pitcher.
Marshall and Marmol get the ball to Gregg without allowing a walk. Thankfully, Gregg was just good enough.
A lot of positives from this opening road trip: Theriot batting over .500, Fukudome is hitting, Fontenot is hitting and Soriano has two more home runs (4) than he hit in the entire month of April last year (2).
Plus, the starting pitching has mustered four quality outings while the bullpen has kept par with the exception of a few too many walks.
Still can't figure out how Dempster pulled the Jack of Hearts out of his back pocket!!!
Notes: Cubs (4-2) 2nd place.
W: Dempster (1-0) L: Suppan (0-2)



Soriano's steal of second base marks the 250th swipe of his career.
D-Lee is (2-for-25) to start the season.



Dempster threw 110 pitches over six innings.