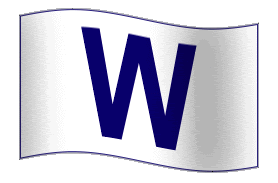 What a difference a day makes. Sunday the weather is absolutely gorgeous and Monday looks like a typical January day in Labrador. All the better for Lilly I suppose!
I thought Teddy had No-Hitter written all over him after retiring Helton for the second out in the top of the seventh. Then Atkins steps to the plate and delivers a single into left field – DANG IT!
Still, it's all good news for Lilly. It took him four starts last season to find his rhythm…and he still won 17 games.
Obviously, the weather factors into the Rockies collecting just one hit…but I take nothing away from Lilly's performance. After all, the Cubs' lineup played under the same conditions and scored four runs on nine hits.
Give Koyie Hill is due while filling in for Geo. Not only has Hill been terrific calling games behind the plate, which is the first priority for any back-up catcher, but he's also batting .300 to boot!
Theriot goes hitless for the first time this season. But, what doesn't show up in the box score is his sac bunt that created a run.
Lee moves down into the four-hole and notches two hits and an RBI…at this rate, why not try him in the five-hole???
Cubs could've put this game away early with Jimenez issuing six walks…a credit to Chicago's patience at the plate. But, Miles and Soriano both missed opportunities with the bases loaded.
Seems all Heilman needed to find his command was a few F-Bombs from Lou. Let's hope that's enough for the pen to get the message: THROW STRIKES!
This starting rotation is BIG TIME right now…Z, Dempster, Lilly and Harden are making it look easy. If this foursome stays healthy the Cubs can build a sizable lead in the division before June.
Timely off day tomorrow. Aramis, Bradley and Soto get an extra day of rest before Wednesday's afternoon contest. The Chicago weather should be much improved and so will the Cubs if all three make the lineup.
Notes: Cubs (5-2) Tied 1st
W: Lilly (2-0) L: Jimenez (1-1)



Today's game marked the 94th home opener at Wrigley Field.
This is the first time Chicago has opened at home against Colorado.



All-time the Cubs are (51-42-1) in its home lid lifters.
The Cubs failed to hit a home run for the first time this season.



Legendary Phillies broadcaster Harry Kalas passed away before calling Philly's game against Washington.
Mark "the Bird" Fidrych also passed away today. The 1976 R.O.Y. was found dead beneath a dump truck he appeared to be servicing.