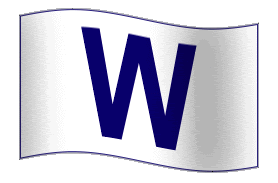 The Cubs starting pitching vs. the Reds starting lineup is a total mismatch. Dusty penciled in six players – all starters – batting (.222) or less. That's awful.
In turn, Cincy's lineup was sweet tasting medicine for Harden, who didn't work from the stretch until the fourth inning. Not to mention, it's a nice rebound game after his short three inning stay against Colorado.
Theriot is flying under the radar. Two more hits tonight. He's batting (.409)…and better, holds a (.412 avg.) with two strikes. The guy goes twinkle-toes with his left foot and suddenly becomes a (.400) hitter. He's batting eighth in the order. Says a lot about the strength of Chicago's lineup.
Hoffpauir is playing like he belongs on the Cubs' 25-man roster…that's a huge mental hurdle for a 29-year-old rookie.