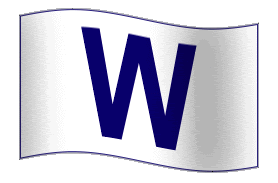 The Cubs starting pitching vs. the Reds starting lineup is a total mismatch. Dusty penciled in six players – all starters – batting (.222) or less. That's awful.
In turn, Cincy's lineup was sweet tasting medicine for Harden, who didn't work from the stretch until the fourth inning. Not to mention, it's a nice rebound game after his short three inning stay against Colorado.
Theriot is flying under the radar. Two more hits tonight. He's batting (.409)…and better, holds a (.412 avg.) with two strikes. The guy goes twinkle-toes with his left foot and suddenly becomes a (.400) hitter. He's batting eighth in the order. Says a lot about the strength of Chicago's lineup.
Hoffpauir is playing like he belongs on the Cubs' 25-man roster…that's a huge mental hurdle for a 29-year-old rookie.
Aramis adds another two-out RBI, has three total RBIs for the game and (14) for the season!!!
If I'm the Reds I give some thought to going reverse-Ankeil on Micah Owings…his bat is more dangerous than his pitches. Why not make the switch?
Dusty makes a pitching change and Cubs fans boo. I'm not saying Cubs fans are wrong for doing so, but the guy's a better manager than most Chicagoans will ever give him credit for.
You know the Cubs will get angry emails regarding the ball boy who grabbed the cat by the tail…I'm sure the kid didn't mean any harm, he simply appeared to be nervous, but not as much as the cat! Cubs should blame Dusty for the cat getting on the field.
Remember when Budweiser, King of all Beers, was also King of all Beer commercials??? Doesn't apply any more, the Drinkability spots are anything but funny. They're a lesser laugh than the Reds lineup.
W: Harden (1-1) L: Owings (0-2)
Ted Lilly is (1-5) all-time vs. Cincinnati.



Just last year he was (0-4) with a 8.15 ERA against Dusty's bunch.
Cubs' pitchers entered tonight's game with the major's third lowest average with RISP: (.189)



Reds went 1-for-7 with RISP.
Chicago

has come from behind in four of its last six wins.