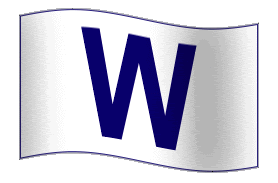 No question Sunday's game is the biggest win of the season for Chicago. Cubs avoid the sweep against its bitter rival, produce some much needed clutch hitting and maintain a record above .500.
Plus, winning on get-away-day is always a shot in the arm. And let's face it, the Cubs needed some breaks before heading to Arizona where they are (10-25) since the '99 season.
Kosuke Fukudome provided the offensive breaks Sunday. Just remember that six weeks ago Kosuke's hitting was still a major concern. Now, he's the centerpiece to a make shift lineup.
We heard all offseason how much extra conditioning Kosuke was doing to better prepare himself for his sophomore season – it appears to have paid off. Give the guy credit.
The hitting aside, quality starting pitching is the best cure to losing streaks. And, guys like Harden are who you want on the mound after dropping four straight.
Rich fulfilled his duty – 107 pitches, six innings, nine strikeouts and, most importantly, he appears injury free.
Love the fact Harden sends a message to Pujols by plunking him in the hip! It's a rallying cry the Cubs need while pulled apart by injuries.
Speaking of which, I also love D-Lee's honesty in the post game about his neck spasms – Lee saying he may have just slept awkwardly. Who can't relate to a stiff neck after a poor night's sleep!!!
However, with Lee now day-to-day, you pencil in Hoffpauir as Derek's replacement. But, that leaves the Cubs with no backup infielders on the bench. Or as Lou put it, he's left with "a catcher and a Gathright." It can't stay that way, a roster move is intimate.
Jake Fox is tearing up Triple-A (.438 avg.)  including nine home runs. But, he's best suited as an outfielder and not an infield guy.
Moving Koyie Hill or Soriano to the infield is cute for the highlight reels, but not for winning baseball games. Maybe Corey Koskie would reconsider a comeback???
Notes: Cubs (9-8) are in fourth place.
W: Harden (2-1) L: Wellemeyer (1-2)



For the 65th time in his career Harden allowed two or fewer runs.
Chicago

is (9-7) against right-handed starters this season.



However, they've only faced one left-hander – losing to Houston's Wandy Rodriguez.
Since 2003 the Cubs are (60-48) against St. Louis.