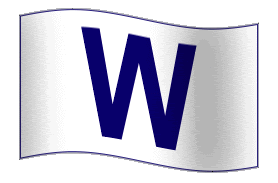 It was fun watching Zambrano pull a role reversal on the D-backs.
And while Z fell a bit short of topping Dan Haren's performance on the mound Monday night, he certainly made up for it with his bat – only missing a triple to complete the cycle.
Without question, Zambrano is the most dangerous hitting pitcher in the game – Micah Owings coming in second.
Yesterday, I was concerned about Soriano feeling some ill affects from being nailed in the noggin on Sunday. That worry left the yard with his three-run blast in the third.
Sori has been locked in from the opening bell. Healthy legs have brought back his power stroke and, the guy isn't flailing at pitches out of the strike zone either.
Plus, the leadoff debate is officially over, which, keeps Alfonso happy in the leadoff spot.
Now, we can only hope the offensive outburst continues Wednesday. Another blow out would go a long way in restoring some confidence in the lineup top to bottom.
Not to mention, Bradley looked comfortable and contributed with two hits and, with Aramis expected to return soon the Cubs would appear set to regain their old form of leading the NL in runs scored.
It's a treat watching Fontenot battle during his at-bats. Monday he lasted 12 pitches in a single plate appearance against Haren before pounding a home run. Tuesday, he again worked the count in his favor before going yard in the fourth.
Koyie Hill has a seven game hitting streak. He's also 4-for-7 on the road trip. Why not play the hot hand and rest Soto another day?
Most importantly, you don't lose anything behind the plate with Hill and, it takes pressure off a scuffling Soto. Plus, there's something to be said about resting Geo's weary right shoulder as well.
Fukudome goes 1-for-1 with three walks. Love it!
A strong outing by Dempster Wednesday could hand the Cubs the series vs. Arizona. They would finish the road trip 3-3, that's huge considering the injuries and lack of run support!
Notes: Cubs (10-9) are in third place.
W: Zambrano (2-1) L: Petit (0-2)



Cubs starters have hurled 12 quality starts in the season's first 19 games.
Zambrano leads the way with four quality outings.



Carlos also recorded career strikeout number 1,200.
Dempster makes his fifth start of the season Wednesday – marking his fourth on the road.