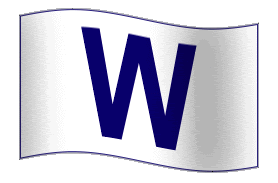 How about Theriot belting his first home run in more than a year!

I love that Lou keeps encouraging Theriot to drive the ball with ducks on the pond. It's not the role Theriot is use to, but when they're on, drive'em in!

Bradley isn't exactly hot, but he's collected three hits in the last four games. Maybe he turns the corner this weekend?
I keep reminding that Chicago is far too talented not to hit. Eventually, the runs will come pouring in. You hope Friday's game is the start.
Cubs finally showed some intensity by coming from behind. Harden, of course, was a mess through his three and a third short innings.
Walks are haunting the entire pitching staff. Harden walks three batters with two outs – eventually forcing in a run. In the last two games Marmol has walked the first two batters he's faced. That can't happen.
Special day for David Patton – his first Major League win–but the walks are going to kill his chance to stay in the bigs, too. Same goes for Cotts who again walked another batter.
Cubs have 11 wins; Gregg has just two saves – an illustration of how often the Cubs are playing from behind.
Notes: Cubs (11-11) are tied for fourth place.
W: Patton (1-1) L: Badenhop (1-1) S: Gregg (2)
Prior to Friday, the last time Chicago was under .500 dates back to the start of the 2008 season as they started the campaign (2-3).
Amazingly, this is the Cubs' first April since 1982 without a single player being placed on the DL.
Chicago is (2-2) in day games following a night game.
Last year, the Cubs posted an (18-11) record in May.