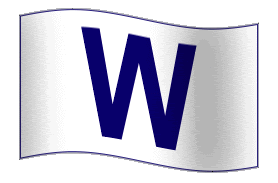 Theriot is driving the ball with purpose. And, the home runs should remind him that he can actually pull the ball too. Hitting to all fields makes any hitter far more dangerous – I love it!
And better, maybe the Cubs' big-boppers will take note of Theriot's simple approach – see the ball and hit it hard. When you hit with purpose and to all fields, good things happen!
D-Lee plants one onto Waveland. That has to happen more often and, especially if Lou keeps him in the No.4. Theriot isn't paid to hit the long ball – Lee is.
We know Lee is good for 20 HR and 90 RBI. But, I think it's fair to ask for more from a cleanup hitter in such a talented lineup…25 HR and 100 RBI – at least.
Fukudome goes hitless, but draws two walks. He's averaging nearly one walk per game – that's terrific!
If the offense from the past two games was around in April the Cubs are far above .500. As it stands, if the offense stays the Cubs start making a push to catch the NL Central leading Cardinals.
And May is the perfect month to get on a roll – 29 total games, 18 of which are at Wrigley.
Ted's 10 strike outs are wonderful…but I'm more thrilled he didn't walk a single batter!!! That allows him to last eight innings and throw just 104 pitches.
I said it all last year…Lilly is the most underrated pitcher in the rotation. But, because he gets it done with finesse and not flare, he gets overlooked.
However, since signing with Chicago in 2007 he's (35-19)…and only CC Sabathia has more wins over that time span as a left-hander than Lilly.
Cubs (12-11) are tied for second place.
W: Lilly (3-2) L: Sanchez (1-3)
Soriano, Theriot and, Fontenot have played in all 23 games this season.



The Cubs have gone deep in six of the last seven games.
Chicago is (8-3) when scoring first.



Cubs have scored four or more runs in all 12 victories.