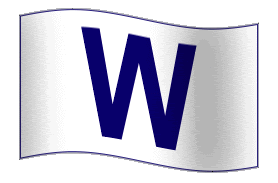 Derek Lee says the booing at Wrigley Field doesn't bother him. I say, bologna! Who in their right mind isn't bothered when 40,000 people directly voice their displeasure with you?
And, if Lee wasn't bothered by the boo birds, why did he stall coming out for a curtain call after his slam?
I still think Theriot's two bombs earlier in the series gave Lee a different perspective on hitting — stop over thinking and drive the ball!
What's more, producing is the single best way to shut up disapproving fans. Lee goes granny and the fans go crazy! Good for Derek.
Not to heap on Lee, but who else was thinking double play with the bases loaded and only one out? Last year, Lee hits the ball into a tailor made DP.  Perhaps, he's finally made the proper adjustment.
Not to mention, I loved Lee's little Sammy hop after going deep. He knew it was four RBI right off the bat!!!