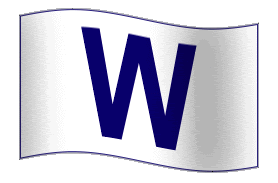 Derek Lee says the booing at Wrigley Field doesn't bother him. I say, bologna! Who in their right mind isn't bothered when 40,000 people directly voice their displeasure with you?
And, if Lee wasn't bothered by the boo birds, why did he stall coming out for a curtain call after his slam?
I still think Theriot's two bombs earlier in the series gave Lee a different perspective on hitting — stop over thinking and drive the ball!
What's more, producing is the single best way to shut up disapproving fans. Lee goes granny and the fans go crazy! Good for Derek.
Not to heap on Lee, but who else was thinking double play with the bases loaded and only one out? Last year, Lee hits the ball into a tailor made DP.  Perhaps, he's finally made the proper adjustment.
Not to mention, I loved Lee's little Sammy hop after going deep. He knew it was four RBI right off the bat!!!
Too much will be made about Zambrano's pinch-hitting appearances this week after pulling up lame on his bunt single in the fifth.
No question Z can hit, but ideally the pinch-hitting role is reserved for a bench player. However, Lou was short handed this week. Z was his best option. That's the risk you run keeping a short bench.
Zambrano will likely miss his next scheduled start Friday against Milwaukee. Obviously, that's a huge blow.
If Samardzija was still starting in Triple-A, and not in the Cubs' pen, he's probably called up for the spot start. Instead, Hendry is left to make a roster move if Z is officially out.
Soto is in dire need of a break. Looks like he's trying too hard both in the field and at the plate. Although, I'm not sure sitting him is the answer, even though Koyie Hill as been terrific in his backup role.
Marmol looks off too. And, I'm not convinced he's 100-percent healthy. That said, if health isn't the issue, Carlos' inconsistency is a big problem for the bullpen.
Another outing like today's and the passionate Wrigley crowd might boo him too!
Notes: Cubs (13-11) are in second place.
W: Zambrano (3-1) L: Nolasco (1-3) S: Gregg (3)



Thi

s was Lee's ninth career grand slam.
He has 13 RBI in his last 17 games.
Fontenot is 6-for-13 on the home stand.
The Cubs have won three straight games twice this season, but have yet to win four in a row.
Chicago is (11-1) when holding a lead going into the seventh inning.
Cubs were (4-3) against the Fish last year.
Zambrano needs just one more win for his 100th career victory.
Carlos also has a five game winning streak against Florida.