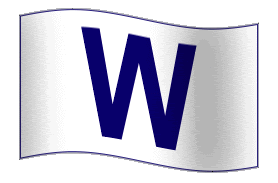 Not once did I hear the name Barry Bonds mentioned during the broadcast. And, I hope we don't hear it tomorrow either. Good for Len and Bob.
Best outing of the year for Dempster. And, he only allows one run if Miles makes a clean exchange on a double play ball in the fifth.
Marmol was his old self again. And, the three straight sliders punching out Renteria were sick!!!
How many home runs for Theriot this season??? I put the over/under at 10. The little man is in a zone and, he's oozing confidence at the plate.
D-Lee goes hitless but draws three walks. You can tell he's relaxed and waiting on the right pitch. He could've taken a few outside pitches to right field. Instead, he appeared to be looking for something on the inner half to drive over the wall. Let's hope he keeps that patient approach.
Aramis looks rusty at the plate, as expected. After all, when's the last time he's swung through back-to-back fastballs over the heart of the plate and, with the bases juiced, nonetheless? Not that I'm worried.
Love seeing Lou give his runners the green light. Cubs have stolen eight bases in the past five games — Theriot had one tonight.
It's official, Zambrano is placed on the 15-day DL. But, let's not fault the guy for hustling…were always quick to point out when players don't run hard. He got hurt, it happens — we move on.
What's it feel like to be Bobby Scales tonight? He spends 11 years in the minors and finally gets called to the show at 31-years-old — filling in Z's roster spot.
In the offseason Scales works as a substitute teacher to make ends meet…something we all can relate too. I'd love to see him play in tomorrow afternoon's game. And, if at some point he sticks around with the Cubs he'll be a huge fan favorite.
How wonderful Bobby Howry wasn't on the mound as a Cub tonight! Although, Howry did manage two scoreless innings.
Tim Lincecum goes tomorrow for San Fran and, Sean Marshall will have to dig deep to keep up. One run can be the difference against Lincecum. But, it's a good measuring-stick game for the left-hander.
Cubs (14-11) are in second place.
W: Dempster (2-1) L: Sanchez (1-2) S: Gregg (4)
The four-game winning streak is the Cubs' longest of the season.
Cubs have homered in eight of their last nine games.
They're also (9-3) when scoring first.
Theriot lead the club with six stolen bases.
Chicago is tied for the MLB lead in quality starts with 15 — Dempster has two.
Lee's home stand: 5 RBI, 4 runs, 3 walks and, 2 HR.
Soto's bases loaded walk marks his 100th career RBI.