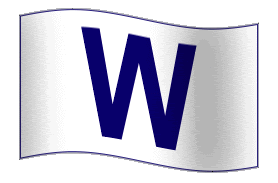 A picture perfect night for the Cubs. Scored early, scored late and gave the lead to Marmol and Gregg.
This is the kind of win we didn't see much of in April. But, the Cubs were banged up. Now they're getting healthy. And, that should mean more wins like Wednesday night.
Terrific plate patience against Hampton, who threw a ton of pitches in the first two innings.
Not to mention, the Cubs drew four walks pushing their total to (14) in the last three games!!! And, they're now (11-3) when drawing four or more walks.
Love watching Harden throw when he's on his game! Only four strikeouts, but he made plenty of Astros look silly at the plate.  His change-up is first class.
Don't have a problem with Lou leaving Rich in for the eighth. Cubs had a comfortable lead, Harden's pitch count was low and you get an extra inning of rest for the bullpen. Plus, Harden has six days of rest before his next scheduled start.
This may be the best outing of the year from the Marmol-to-Gregg combo — no walks, no hits and no runs. Marmol tosses 8-of-10 pitches for strikes and, Gregg goes 1-2-3 in the ninth, a rarity thus far.
Like I suspected, Samardzija is sent packing back to Iowa. However, Chad Fox isn't the answer for the bullpen either. But, Jeff left the Cubs no choice but to make a move. Again, I'd wait to bring Samardzija back until he's ready to start.
Notes: Cubs (15-12) are in third place.
W: Harden (3-1) L: Hampton (1-3) S: Gregg (5)



Chicago has won five of its last six games.
Cubs starters have lasted at least six innings in 21 of the team's first 27 games.



And, the bullpen's ERA in May is a solid 2.20.
Only Albert Pujols has hit more home runs at Minute Maid Park (22) than Aramis' (18).



Mike Hampton wears No.11 in honor of his good friend and former Astros great, Brad Ausmus.