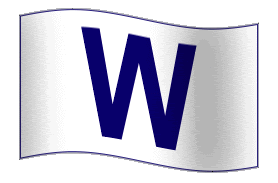 Cubs pound out 14 hits against a team they should dominate. And beating lesser teams, like Houston, is a huge part of winning the division title.
Top four hitters in the Cubs' lineup — Soriano, Theriot, Fukudome and Ramirez — combined for eight hits, seven run and three walks. That's big-time!
Micah Hoffpauir goes 2-for-4. He's batting .313 for the season. And, Lou says he's thinking twice when leaving the big lefty out of the lineup.
If Micah could improve defensively at first, it seems Lou would take a longer look at playing him over Lee.
But, Micah improving to Lee's Gold Glove standard in the field is still an unknown. Until then, Lee's starting job is safe.
DEFENSE MATTERS!!!
Speaking of which, Lee is expected back in the lineup Friday in Milwaukee. Of course, that's pending on if his neck spasms hold off during the long three hour flight from Houston to Miller Park.
A long flight might seem like a lame excuse to miss playing time, but traveling is stressful…on all of us!!! And, I think it's one of the most overlooked aspects in all professional sports!
Just think about the stress that wells up sitting in Chicago traffic, or in my case, waiting on the Brown Line. Flying out of O'Hare is no different. Traveling is stressful!
Larry Rothschild visits Lilly on the mound during the first inning. After the game, Ted says he has no idea what Larry told him during the brief meeting. Is that a swipe at Larry???
If not, it's a comment that falls into the 'too much honesty' category.
Marmol strikes out the heart of the order in the eighth. It's another example if why he's much more valuable as a setup man than the closer.
If Marmol doesn't pitch in that spot the Cubs never get the ball into the closer's hand.
Cubs (16-12) are in second place.
W: Lilly (4-2) L: Ortiz (2-1)
Cubs are (8-4) in the last 12 games.
Lilly has a five-game winning streak against Houston.
Opponents three and four hitters are a combined 6-for-37 against the lefty.
Fukudome has reached base safely in nine of his past 12 games.
Aramis went 5-for-8 during the two-game series.
Four of Soriano's nine home runs have come against the Astros.