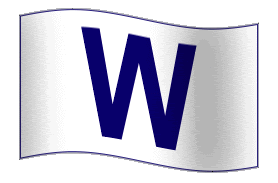 The Cubs should move Sean Marshall to the bullpen. Not because he's pitching poorly, but because it's a role better suited for him.
The guy throws too many pitches. He rarely last past five innings. I want more frames from a starter.
Sunday he tosses 97 pitches in five innings. The results were good, but you want as few innings as possible from Chicago's unsettled pen.
Besides, in 55 career starts Marshall has lasted through seven innings just nine times, and eight frames once.
Keeping Marshall in the rotation only for his left-handedness is silly.
If it's that important to have a southpaw starter why not trade for one???
And, put Marshall where he belongs — long relief and lefty vs. lefty situations.
One option for replacing Marshall's rotation spot is Jose Ascanio, freshly recalled from Triple-A Iowa.
The flame-throwing right-hander has been starting in the minors with success. He's also working on developing a changeup.
Learning a new pitch can make all the difference in being a career minor leaguer vs. being a solid major league hurler.
We're about to find out if this works in Ascanio's case.
Fontenot makes two terrific plays at third keeping runs from scoring. Conversely, Soriano plays kick-ball in left field allowing runners to advance to second and third.
Pitching is only as good as the defense. Thankfully, Soriano's potent bat makes him an exception to the rule — his two-run tater in the third being the example. But, there's no excuse for lazily playing a routine hit ball.
DEFENSE MATTERS!
Milton Bradley admits to feeling some pressure at the plate this year. I like his honesty. And, I appreciate his willing to open up to the media. For his own sake, he should talk to the media more often.
When players talk the media has nothing to speculate about. Now we know Bradley felt pressure and we can better understand why he struggled at the dish. End of conversation.
Braun was a little cocky Friday running the bases after his go-ahead tw0-run jack. Loved watching him strikeout to end the game Sunday!
Big blow Monday after wrapping up 20 games played in 20 days. Cubs finish with a (10-10) mark.
How can you not be a fan of Milwaukee's Sausage Race? I always pull for the brat.
And, I always crush a couple when visiting Miller Park too!
Notes: Cubs (17-14) are in third place.
W: Marshall (1-2) L: Suppan (2-3) S: Gregg (6)
Cubs who participated with the pink bats: Bradley, Fontenot, Geovany Soto, Aaron Miles and Ryan Theriot.



Cubs have homered in 13 of its last 15 games.
Chicago is (49-62) on Mother's Day dating back to 1914.



On Mother's Day in 1993 Mark Grace hit for the cycle against San Diego.
The feat marks the last time any Cubs has completed the cycle.



In 1978 Dave Kingman homered three times for the Cubs on Mother's Day in a win against the Dodgers.
Cubs have scored four or more runs in all (17) wins this season.



Chicago is (3-3) against Milwaukee this year.