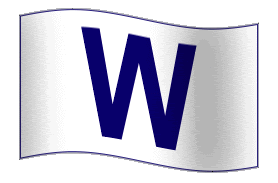 I'm buying a Bobby Scales tee-shirt.
His pinch-hit bomb in the seventh–his first MLB home run–reminded me of Felix Pie's dramatic three-run shot against the Mets on Apr. 21 last year. Although, Pie was sent down less than a month later.
Scales, on the other hand, is off to an impressive start. A five-game hitting streak which includes a home run, triple, three runs scored and a .429 average to boot!
He's making the most of his opportunity and, making it tough on the Cubs to send him back to Iowa. I hope he stays in Chicago all summer.
Bradley's two-run bomb was majestic. You don't see many hits land half way up the center field bleachers.
Lou says it the farthest hit ball he's seen since managing in Chicago. It was an important blast too, putting the Cubs ahead for good.
And, I love Milton playing to the crowd afterwords by cupping his left ear–as if struggling to hear any boo birds!
Bradley deserves some applause. He's hit safely in his last six games and raised his average by more than 50 points. You need that kind of production with Aramis on the shelf.
Was I seeing things or did Soriano have two solid situational at-bats?
The first, a short swing with two-strikes produced a run scoring double to left. The second, an RBI single through the right side of the infield…that never happens with Sori!
Harden went punch-for-punch with Peavy, even after allowing Gonzalez's two-run homer in the first, which, didn't appear to be a bad pitch–low and away.
Most importantly, Rich issued just a single walk. I love it!
Heilman-to-Marmol-to-Gregg was beautiful! The threesome protected the lead and shut the door. This is how the Cubs draw it up in the clubhouse.
The Cubs (18-14) are in fourth place.
W: Harden (4-1) L: Peavy (2-5)



Cubs have nine come from behind wins.

They led the NL with 44 comeback wins last year.



Fukudome, 3-for-5, extended his hitting streak to five-games.
The bullpen has tossed seven straight scoreless innings.



The Mets optioned former Cub Angel Pagan to Triple-A Buffalo.