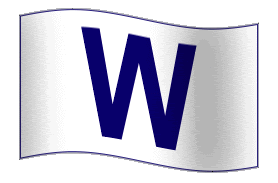 The Cubs made the most of their seven hits Wednesday. Four of six runs scored with two outs.
Soto drove in THREE two-out RBI! He's nearing the .200 mark, and has reached base safely during his last 10 starts. Maybe his first jack of the season loosens him up even more at the plate?
Without question, Lilly has been the best starter on the staff. He was strong through all 6.1 innings. Even better, the lefty didn't walk a single batter!!!
And, without the defensive miscues by Lee and Fukudome, Lilly probably last another inning.
Adrian Gonzalez is terribly underrated around baseball. Put this guy on a winner and he's a house hold name.
Plus, it's remarkable the way this guy hits with power to the opposite field. He makes it look easy– a calling card for the truly gifted athlete.
Soriano and Theriot going back-to-back in the first was awesome! Got the Cubs right back in the game!
If Theriot keeps driving the ball with power, it puts more pressure on the opposing pitcher to throw strikes to Soriano. I love it!
What's keeping Lou from moving Lee down in the order? He's below the Mendoza line as the cleanup hitter. Doesn't make sense to me.
I like Bradley's bunt during the third. It's not a play you want to see often from a power guy, but Milton took advantage of the defense.
It's a smart play. It's an unselfish play. And not to forget, Soto later knocked him in for a 5-2 lead.
Never, at any level of baseball, have I seen the grounds crew roll the tarp to second base, stop, and then roll the tarp back off the field–and I've sat through plenty of rain delays covering games!
Not that I'm complaining. Any delay of four minutes or less should be totally manageable from a spectator's point of view!
Cubs (19-14) are in fourth place.
W: Lilly (5-2) L: Young (2-2) S: Marmol (3)



They're also a season high five games over .500.
Chicago played its 399th night game at Wrigley Field.



They're 212-187 all time under the lights at home.
Lilly gave the Cubs its 19th quality start of the season–third best in the NL.



Ted has five QS and also holds a 3-1  home record.
Theriot has played in all 33 games this year.



Cubs have homered in 15 of its last 17 games.