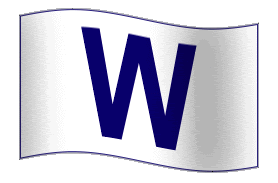 Milton Bradley says he's not treated fairly by MLB. And, Milton is right. But, that's to be expected with his history of suspensions.
Doesn't matter if Bradley's contact with the umpire was incidental–you can't touch the guys in blue! When there's contact there are also grounds for a possible suspension.
I didn't have a problem with MLB's initial two-game ban for Bradley. And I don't have a problem with the reduction to a one-game ban either.
My only issue is that it took MLB a full month to resolve the problem. That's too long.
Give Milton credit for addressing the media after the game. Answering the questions keeps the story from lingering any longer. He'll serve the suspension Friday and put this whole story to bed.
Monday, I talked about the Cubs getting healthy in the standing against San Diego. Most three-game sweeps do that, this one included.
Obviously, a big part of winning the division is playing well within the Central, but taking care of business against lesser teams, like the Padres, is equally important.
Dempster dominates former Cub Chad Gaudin in the battle of the red beards.
Ryan goes seven strong and drives in as many runs as he allowed–two! Love it!
Conversely, Gaudin's seven walks and 102 pitches in 4.1 short innings makes Hendry look smart for releasing him.
Cubs drew 10 walks, hit six doubles and scored 11 runs–all without hitting a home run! That's only possible with production from top-to-bottom in the order.
Fukudome goes 2-for-3 with two walks. He's batting .340. Yet, he seems to be flying under the radar.
Is Cubs Nation waiting for the other shoe to drop like a year ago? Maybe it will, but maybe it won't!
Either way, noticed or not, Kosuke has played a huge role in the Cubs' offensive turn around.
Bradley and Lee sit after Wednesday's night game. Hoffpauir, playing in place of Lee, draws two walks and scores twice. Why not start Micah again Friday?
Combed Wrigleyville for a No. 24 Bobby Scales tee-shirt, couldn't find one. Maybe they're on the way!
Cubs (20-14) are tied for second place.
W: Dempster (3-2) L: Gaudin (0-3)
The Cubs' win ties its season high four-game winning streak.
This is also Chicago's first three-game sweep of the year.
Before failing to go yard Thursday, the Cubs had homered in seven straight games.
Cubs have 20 quality starts in 34 games.
Chicago has scored four or more runs in all 20 of its wins.
In eight outings Dempster has lasted at least six innings.