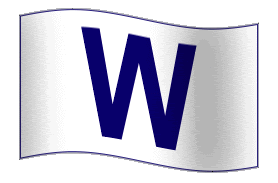 Kevin Gregg led the NL in blown saves last year. Meaning, more outings like this one are bound to happen with the right-hander.
Doesn't mean Marmol should close. Doesn't mean Gregg can't cut it in the ninth. And, Lou says he's ready to throw Gregg back out there Sunday, if need be. It's one of the beauties of baseball–there's always tomorrow!
This was vintage LaTroy Hawkins pitching at Wrigley–blowing the save opportunity. Never liked the guy as the Cubs' closer. And, I'd take Gregg over Hawkins any day.
Another situational hit by Soriano to right field. That's three this week. This one a game-winner. Might be his season-high since joining the Cubs!
Even better, Fonsi connected on an 0-2 pitch. Didn't try to pull the ball. If he keeps going to right, pitchers will approach him differently. In turn, Soriano will see more pull pitches inside: advantage Alfonso.
You hate to see Hoffpauir ride the bench with Lee batting .198. If I'm Lou, I'd write Micah into the starting lineup at first–at least for the time being.
Obviously, you lose big-time defense from Lee. However, Hoffpauir has reached base safely in seven of his last eight games. With more playing time I think Micah puts up even better numbers.
Marshall gets the win out of the bullpen. Love it!
Randy Wells is a start-by-start pitcher–each outing an audition to stay with the big club. Wells earned another start Saturday. Keep Marshall in the pen.
Cubs (21-14) are in second place.
W: Marshall (2-2) L: Hawkins (1-1)



Chicago is a season-high seven games over .500.
Lee notched his first RBI since May 3rd.



Hoffpauir is 6-for-13 this season against Houston.
Cubs have scored four or more runs in all 21 wins.



Chicago is (19-3) when holding a lead entering the seventh inning.
Gregg is 6-for-8 in save opportunities.