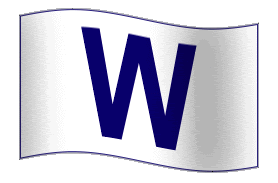 Eight times the Cubs have been sub .500 this season. A bit of surprising news for a club expected to win the Central in a landslide.
Of course, they're the many injuries to blame, but this still isn't a .500 club, let alone one that should fall sub .500 eight times–they're much better than 22-22.
Although, the fact they've bounced back eight times speaks to the immense talent on the club. And, with some restored health should come some restored confidence too.
If anything, snapping the eight-game skid Tuesday reduces the frustration level from a rapid boil to a simmer. Another win Wednesday and the streak is put to rest.
Super outing by Sean Marshall.
He worked quickly, efficiently, and beat the rain storm by a nose. Five innings, 88 pitches and one run–terrific! Anything less, or slower, and the game may not have reached official status.
I've been tough on Marshall as a starter, and still prefer him in the pen. Eventually, I think he ends up there. Perhaps, as soon as Cotts is sent packing.
Soriano singles leading off the fifth and then steals second. Theriot drives him in later in the inning giving the Cubs a 4-1 lead. I'm all for runners in motion with the offense struggling. I also wouldn't mind seeing Alfonso run more often.
I gave some thought to the Cubs trading for Nomar Garciaparra. I think I'd go for it. Yes, he's 36-years-old, but he's very affordable and has a place with the Cubs at third base.
With nearly 100 games under his belt at third, experience from 33 postseason games–including a .321 average in those contests–and only a short window to stay healthy while Aramis is rehabbing, I'd say adding the fading star couldn't hurt.
Not to mention, come the first of June this season isn't early anymore. And with the Cubs bobbing around .500, there's not much of an argument for staying the course with the current roster.
I'm not saying the Cubs need Nomar, but if he's available, why not?
Cubs (22-22) are in fourth place
W: Marshall (3-3) L: Snell (1-6)
Three of the Cubs' six runs were scored with two outs.
Cubs have hit six doubles and two home runs on the homestand.
They're also 14-6 when scoring first.
Chicago avoided losing nine straight for the first time since May 2002.