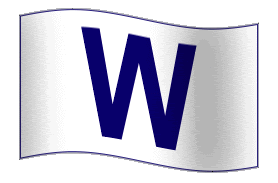 Let's be honest here, Carlos Zambrano and home plate umpire Mark Carlson are both at fault.
No question Carlson walked into Z initiating contact. He clearly wanted Zambrano tossed from the game and knew a quick brush up would set the stage for an ejection.
However, Carlos' childish fit-throwing isn't excusable either.
I'm not a Zambrano apologist. His outbursts are ridiculous, and getting tiresome.
There's no reason Z can't play with emotion and act as a professional when hundreds of players around him do it daily.
It's time for someone in the Cubs organization to grab Zambrano around the collar to get the message across–GROW UP!
Obviously, Reed Johnson's game-winning home run was huge. The Zambrano blowup reaches a whole new level had the Cubs lost.
Love watching Reed play center field too. That's a fantastic grab in the seventh up against the outfield ivy!
The callups of Andres Blanco, Jason Waddell, and Jake Fox are crucial. The Cubs need some fresh faces and a shot in the arm.
Blanco's ability to play shortstop is key while Theriot could use some time off. Waddell can't be any worse than Neal Cotts, and Jake Fox just needs to be in the lineup–anywhere!
Freel and Miles are both headed to the DL. Sadly, I don't think either will be missed. I also wouldn't be surprised if Miles is DFA after 15 days. Plus, I like seeing Bobby Scales get a second life with the big club.
Good measuring stick series against the Dodgers who are (18-7) this month. A series win gives the Cubs an added confidence boost heading into June. Although, I'll be happy with a split of the four-game set.
Cubs (23-22) are in fourth place.
W: Marmol (1-1) L: Chavez (0-2) S: Gregg (7)
Chicago is (13-11) in May.
They started the month (11-3).
As a team the Cubs are hitting .263 at home vs. .234 on the road.
Zambrano is still sitting at 99 career wins.
Cubs have scored four or more runs in all 23 victories.