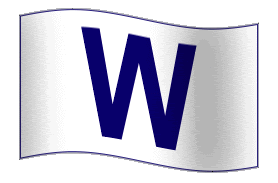 Best all around win for the Cubs this season.
Dempster was simply outstanding. His best start of the year.
It's a nice rebound game following his worst start of the season–six runs, seven hits in four innings against Pittsburgh. And, Saturday's performance looked a lot like the Dempster from a year ago.
Reed Johnson is 6-15 on the home stand, has 12 RBI in his last 13 games, and has also improved the batting average from .239 to .270.
What's more, I love watching the Chin Beard go RBI bunt single and deep in the same game!
If Soriano's knee his ailing, why not play Reed full time in left field?
Lou says he's sticking with Fontenot at third until Aramis returns from the DL. Maybe it helps the little guy stay more focused at the plate? Didn't seem to hurt Mike's game Saturday with his RBI double and RBI triple!
However, I'd still prefer Jake Fox at third, at least part-time. The guy hits, and the Cubs haven't! I get that he's a big bat off the bench, but isn't he's more deadly getting three or four ABs per game?
Cubs took two of three against the Peg Legs and have won four of five. Make it three of four Sunday against the best record in baseball and it's a wonderful finishing touch to the homestand. Big opportunity to keep this momentum Sunday night.
Cubs (25-23) are in fourth place.
W: Dempster (4-3) L: Stutts (4-2)
Saturday's shutout assures Chicago of its third consecutive winning homestand.
This game also marks the first time L.A. has been shut out this year.
Cubs have allowed two or fewer runs in its last five games.