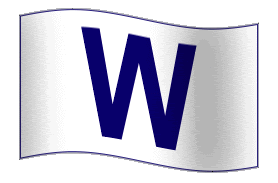 June 1 is a moment of truth during the baseball season.
Generally speaking, if a club isn't competing after two months they won't be competing after four more, either. And this has been a baseball truth for a long, long time.
By June 1 last year all the division leaders in the AL eventually made the playoffs, including Boston, which held the Wild Card lead at the time.
The NL saw only a slight variation from the June 1 standings. Two of the three division leaders made the playoffs–the exception being the Dodgers who later acquired Manny Ramirez and blew past Arizona. And, St. Louis lost its five game Wild Card lead to the Brewers after CC Sabathia arrived in Milwaukee.
So, what does this mean for the fourth place Cubs, who are four games back in the Central and three games behind the Wild Card leading Cardinals?
Basically, the grace period is over for Chicago. If a third consecutive division title is to be won, the Cubs have to start playing better baseball.
Rebounding won't be easy, even if the Cubs are lucky enough to add five current players off its DL. Aramis is a huge question mark too because there's no telling how he'll recover from the dislocated shoulder.
Despite five starters batting less than .250 (Soriano, Lee, Bradley, Fontenot, and Soto) Lou seems to think his big boppers will eventually turn the corner after a slow start. I'm on board with that thinking too. The Law of Averages can't lay doormat forever!
However, my real concern is the bullpen. Marmol has consistently found trouble by walking too many hitters. Gregg hasn't exactly been lights out closing, and Heilman is far from a reliable bridge to the former two.
The critical move for Chicago is adding a quality middle reliever–someone to team up with the surprisingly good start from Angel Guzman.
Adding talent from outside the organization will be tough for Jim Hendry. The Cubs are with few trade pieces at both the major and minor league level, and the looming sale of the club ties Hendry's hands financially.
For certain Milwaukee isn't going away. Neither is St. Louis or Cincinnati for that matter. It's no given the North Siders make the post season. But, I still like the Cubs chances.
Who's in first come June 1:
AL – New York, Detroit, and Texas. Wild Card: Boston
NL – Philadelphia, Milwaukee, and L.A. Wild Card: St. Louis