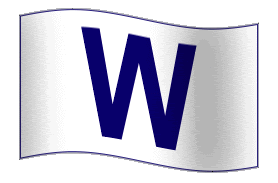 Talk about a grinder. Whew!
Alfonso Soriano's game-winning blast in the 14 inning felt like a small miracle, and it may take another week for the Cubs to score six runs.

Although, you look at the big picture in this series and the Cubs win two of three–not bad.
Look closer, and its evident the Cubs can't score with men on base–not good.
It's one thing to not hit in April and May, but an entirely different matter not to be hitting in June.
When a team isn't scoring at this point in the season they're running the risk of digging a hole too deep to climb out of. And, right now the Cubs are shoveling pretty quickly.
In fact, had it not been for Chicago's stellar pitching this week, the Cubs most likely are under .500.
On the contrary, add one or two more clutch hits and the Cubs could very well be on a five-game winning streak.
Either way, the lack of run scoring is a major concern.
Quite frankly, I'm not sure what Lou can do to change the lineup's fortunes. Not sure a trade by Jim Hendry would work either.
You can only hope Soriano's long ball sparks another one of his hot streaks…he's the lone force in the order that can carry the entire offense. And right now Chicago needs Alfonso to be huge more than ever this year.
I wouldn't mind seeing the Cubs try some more small ball too. Maybe lay down a few more bunts, and try stealing some more bags as well. Who knows?
Randy Wells has turned out to be a diamond in the rough. Five straight quality starts and a 1.86 ERA–fantastic!
Ascanio was big-time Sunday! You put him in front of Guzman and the Cubs' bullpen appears solid leading up to Marmol and Gregg.
Marmol, on the other hand, has now walked 27 batters in 27 innings pitched. Horrible.
Until Carlos regains some control, I'd move Guzman into the setup role and let Marmol pitch in the six or seventh innings.
The unfortunate circumstances with Dempster's daughter (DiGeorge Syndrome) probably explains why Ryan hasn't been the pitcher he was a year ago.
I assume Dempster is relieved to get the sad news off his chest. The downside, however, is Dempster's personal matter is now a media story.
In turn, Ryan must prepare himself to answer questions about his daughter's fragile condition daily.
I'm not saying the media has ill intentions, but I assure you the writers will be asking Ryan for updates on her condition–whether Ryan wishes this information to be public or not. That's got to be tough.

Cubs (28-26) are in third place.
W: Patton (2-1) L: Lincoln (1-1) S: Guzman (1)
Chicago is 3-2 on the eight game road trip.
Four of the five games have lasted into extra innings.
This road series win marks the first for Chicago since taking two of three at Milwaukee April 10-12.
Overall, Chicago is 12-16 away from Wrigley.
The Cubs' starters have posted 33 quality starts this season–tops in the majors.