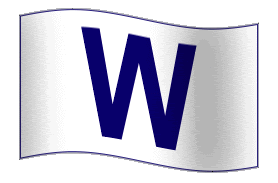 I said it several times last week.
Lose the weekend series against the Twins and Monday would be a reevaluation period for the Cubs.
Turns out Jim Hendry pulled the plug on Gerald Perry a day earlier.
Of course it's not fair to blame Perry for the Cubs' collective brain cramp at the dish, but it's a smart move.
The hitters on this club need a wakeup call.
They're not getting it from Lou and they're not getting it from their big-man, Alfonso Soriano, who went 1-for-12 over the weekend.
Seeing Perry lose his job will resonant throughout the clubhouse. It's a tough way to do business, but it's also part of baseball's culture.
Although, any decent human being can't ignore the feelings of seeing a co-worker get canned as the scape goat.
By some measure you would expect at least a few, if not all the players, to have some sense of extra motivation to perform better.
The hope is you couple the coaching change with the excitement of the cross-town Sox series and pray the Cubs finally break free offensively.
At the very least, you want it to happen for Perry's sake.
Von Joshua takes over the coaching duties with high praise. Initially, his instructions should make a positive impact. After all, what Cub slugger couldn't use a few pointers?
But adding a new coaching voice isn't the long term answer.
Lou needs to get tougher. The players underperforming should be benched, and Hendry should strongly consider adding talent via trade.
This season isn't early any longer and repeatedly hearing the Cubs brass talk about the lineup eventually hitting has grown tiresome.
Sure, the Cubs are only three games back, but at this rate the margin turns into four or five games back by the end of the week.
Let's hope Joshua's promotion is only the beginning of the Cubs reevaluation period.