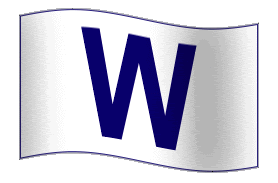 Not exactly the Big Blue Train, but close enough.
Andres Blanco's sac bunt in the ninth was huge.
If Blanco fails to move Reed Johnson from first to second, who knows if the Cubs win the game?
No idea why Matt Thornton chose to throw Soriano a fastball over a breaking ball low and away—a pitch that seems to get Sori every time.
Zambrano found the perfect balance between energy and control. If Z can duplicate his emotions from this outing he'll be an 18-game winner.
No better medicine for a hitting hangover than a walk-off win. Coming against the White Sox makes it all the better.
Last season, it was inevitable the Cubs would rally from four runs down. This year, however, we're just hoping for four runs scored in a three game series.
What's more, the back-to-back blasts from Lee and Soto produced more runs in two at-bats than the Cubs scored in its last three games combined.
Which again leads us to what to do about the lineup?
If you're Lou, do you change the order tomorrow or play the momentum from a walk-off win?
Much of the runs scoring problems seem to stem from a lack of confidence, not talent.
But combine Lee's three-run blast with Soto's game-tying homerun, and Soriano's walk-off single, and we're looking at a major confidence boost.
Then again, for seven innings Thursday Lou looked foolish posting the same lineup that's scored him 10 run in the previous six games.
And, had the Cubs not rallied, we're sure to be tearing Lou a new one for not making any significant changes to the lineup.
Why not meet in the middle?
Let Soriano rest his bum knee for a game or two. Play Micah Hoffpauir in his place, and let Jake Fox be the everyday third baseman for awhile.
The Indians have one of the worst pitching staffs in baseball statistically. No reason the Cubs shouldn't win two of three at home and rejoin the NL Central race.
Heck, that wouldn't be asking a lot from the Little Engine that Could.
The Cubs (31-31) are in fourth place.
W: Gregg (1-1) L: Thornton (4-2)
Chicago is 2-3 on the homestand.
This win marks the 13th time the Cubs have returned to the .500 mark.
Cubs starters have lasted at least six innings in 12 of its last 13 contests.
The staff leads the majors with 40 quality starts.
Milton Bradley is 10-for-23 during his seven-game hitting streak.
Derek Lee extends his hit streak to 15 games.