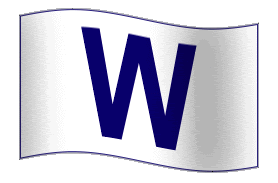 Cubs baseball hasn't been this exciting for a long time.
Maybe the confidence is back to string together a winning streak?
It should be after erasing a 7-0 deficit!
This is the Derek Lee the Cubs need batting cleanup: three hits, two home runs, and a 16-game hitting streak. Plus, the man has reached base safely in 26 straight games!
When you're down a run in the bottom of the ninth, you want the cleanup batter at the plate. Lee delivered with a game-tying blast, and that's the way it should be!
Loved Soriano's steal of second in the 10th. It was equally as critical to winning the game as Blanco's sac bunt on Thursday.
When Sori is on base and stealing bags, it changes the whole offense.
I'm all for resting Soriano more often if it means he'll still more bases when in the lineup.
Jake Fox goes 0-for-5 with five men stranded, but I'd still keep him in the lineup everyday at third base.
Obviously, not the best outing for Harden. He couldn't keep the ball down, and seemed to be without a put-away pitch.
Doesn't mean the guy isn't healthy. Just a bad outing, and that's all.
Besides, the Cubs' starters deserve a break having posted a major league best 40 quality starts. Not to mention, bailing the starter out every now and then is part of being a good baseball team.
Lou says the bullpen needs more work. What a terrific problem to have in June!
Not many teams can say the same thing. It's truly a blessing in disguise.
Having a rested bullpen for the second half of the season means you have a greater chance of making the postseason.
Seeing DeRosa and Woody back at Wrigley is bittersweet. I wouldn't put it past either of them to resign with the Cubs before the end of their respective careers.
The Cubs (32-31) are in fourth place.
W: Gregg (2-1) L: Vizcaino (1-3)
Cleveland has not played at Wrigley Field since June, 1998.
It's been seven games since the Cubs managed double digit hits (11 total on Friday).
Chicago is 19-13 at home.
Milton Bradley extended his hitting streak to eight games.
The Cubs' bullpen has thrown the second fewest innings in all of baseball.