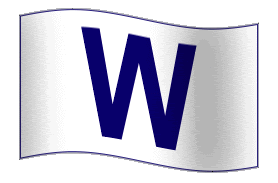 This is how Cubs baseball is suppose to look.
The lineup hit like it should…a quality outing from Randy Wells…and Kevin Gregg closes the door.
Keep hitting the repeat button and the Cubs close in next on St. Louis.
I said Saturday the Cubs could use a nice 6-3 win to complement its three consecutive walk-off wins. Sunday's 6-2 margin of victory does the trick.
Of course, walk-off wins are positive reminders that you're never out of the game, but winning in the fashion the Cubs did Sunday should remind this team what winning feels like on a consistent basis.
Big relief seeing Soto gun down a runner at second base…the once ailing right shoulder looks strong, especially at the plate where he's driving the ball to right field and hitting with some more power.
Terrific diving catch by Fukudome in the top of the fourth! At the very least, the man brings his glove when struggling offensively—he went just 4-for-24 on the homestand.
I've been clamoring for Lou to use Jake Fox as the everyday third baseman. I think the guy's production at the plate will cover for his weaknesses defensively. It did Sunday when Fox drove in three insurance runs in the fifth.
Losing Angel Guzman to the DL two months ago wouldn't have been a big deal. Then again, who knew this guy would be the best arm out of the bullpen?
Guzman's setback is forcing Marmol to again become the most dominate setup man in the NL–a feat he's fallen well short of this season.
Wells' special day (his first MLB win) should have come weeks ago…but the Cubs couldn't buy a run. Nonetheless, the kid's been strong through eight starts: 35 strikeouts vs. 11 walks and a 2.57 ERA to boot.
With a little run support he's capable of a double-digit win season.
Interesting eight-game homestand. After sinking below .500, the Cubs rebound with five wins, four of the walk-off variety, jump Cincinnati in the standings, and pull within 2.5 games of St. Louis.
Will the 10-game road trip be any more exciting?
The Cubs (34-31) are in third place.
W: Wells (1-3) L: Sowers (1-5) S: Gregg (11)
Chicago hasn't won four straight since May 12-16.
In the last four games the Cubs have homered eight times.
Milton Bradley extends his hitting streak to 10 games.
Derek Lee's streak reaches 18 games, tying his career high.
The Cubs' 42 quality starts is tops in the majors.
Chicago is 13-18 on the road.