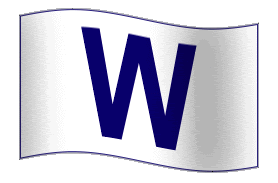 Friday should be all about the W.
What it's not about is Bradley's fit throwing, Soto's pot smoking or the Cubs' lack of clutch hitting.
For one game the Cubs managed enough runs to break a four-game losing streak, return to the .500 marker, and defeat its cross-town rivals.
And that's the best news in the last week.
With all the negative energy surrounding the Cubs, a simple 5-4 win is a huge relief. For the time being, the extra curricular activities don't matter.
There's no way Lou can take Jake Fox out of the lineup. His bat is too valuable, and he's earned the right to stay in the starting lineup.
I believed Fox when he said getting his first home run out of the way in Detroit relieved some pressure off him.
In a similar fashion, I think the same can be said about Soto with the news finally revealing he failed a drug test during the WBC.
I've been saying it all year; Sean Marshall is best suited coming out of the bullpen. In the lefty's last three outings he's needed just seven pitches to record three outs.
Other than throwing Jim Thome an 0-2 meatball that landed in the seats, Randy Wells again threw the ball wonderfully.
Carlos Marmol looks worse than Fukudome's spin-o-rama. What's wrong with Marmol?
An ineffective Marmol is the bullpen equivalent of missing Aramis in the everyday lineup.
Make Saturday all about the W and the Cubs are back in business in the NL Central.
The Cubs (35-35) are in third place.
W: Wells (2-3) L: Contreras (2-7) S: Gregg (12)
The Cubs have not been more than one game below .500 this season.
Chicago is now 10 games into its stretch of 22 straight contests without an off day.
The rotation's 45 quality starts leads the majors.
Since 1997 the Cubs are 15-19 against the Sox at the Cell.