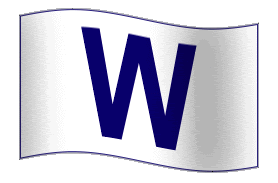 Randy Wells is deserving of an All Star selection.
Of course, there's a fat chance he'll represent the Cubs in St. Louis, but that doesn't mean he's not worthy.
Had the guy been given any run support this season he'd have the number of wins to be legitimately considered.
Nonetheless, Wells has been simply terrific through 10 starts.
In exactly half his outings he's lasted at least seven innings pitched.
He's also totaled 45 strikeouts vs. just 14 walks, and has managed to win three games in a row despite receiving a meek three or fewer runs of support in seven of 10 outings.
What stands out to me most about Wells, however, is his ability to keep the ball low in the strike zone. Of the 26 batters he faced Thursday, 12 were ground ball outs. That's huge!
Lou's ejection was long overdue. Wells says it fired him up to see Piniella take his side.
If the rest of the roster feels the same way, maybe the Brewers series is a break out one for the Cubs' struggling lineup.
I have no issues sitting Soriano for a couple of games. Besides the rest it provides for his bum knee, a couple of off days are a much needed mental break from a career worst batting slump.
Meanwhile, keep Sam Fuld in the leadoff spot and the Cubs reap the benefits of his on base speed and defensive prowess in left field.
Without question, this was a terrible road trip. What else would you call a 3-7 record and the Cubs' lack of clutch hitting?
Doesn't mean the season is in the crapper, yet. But, Chicago better make amends during this 11-game homestand heading into the All Star break, or else.
The Cubs (37-38) are in fourth place.
W: Wells (3-3) L: Vasquez (1-1) S: Gregg (14)
Brewers lose 1-0 against the Mets, Cubs are 3.5 games back.
During June, 22 of the Cubs 25 games were decided by three runs or less, and 18 of those games were decided by two or fewer runs.
The team's batting average of .233 was the third lowest in the NL.
The starting staff, however, posted the best ERA in the NL (3.18).
The rotation also leads the majors with 48 quality starts.
In road series the Cubs are 5-9-1.