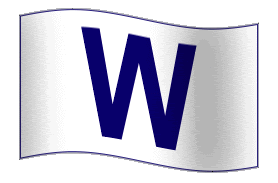 This is how the Cubs won 97 games last year.
Playing with passion, hitting the long ball and superb starting pitching was the team's calling card a season ago.
Thursday showed the Cubs are still capable of such play, although consistency has been the main problem this year.
Derek Lee is doing his best to impersonate Aramis Ramirez. Much to my surprise, it's been working.
As I've mentioned before, I never thought Lee would be the guy to lead this lineup with Aramis injured and Soriano struggling.
Lee, however, was terrific in June batting .333 with six home runs and 20 RBI. He's also reached base safely in 37 of his last 39 games!
If Lee keeps par at his current pace it makes Aramis that much more of a dangerous hitter upon his return.
We know Sam Fuld isn't the long term answer at the leadoff spot, but the guy's earned more playing time.
In the last two games Fuld has gone 4-for-8 with three runs scored, two doubles and a walk.
Better, he's tracking down fly balls in left field that Soriano would never get to. I say keep Fuld in the lineup while he's hot!
I'll take newly acquired Jeff Baker over Ryan Freel any day. It doesn't always take a big name player to get the job done.
Mark DeRosa, for example, wasn't a big name player when he arrived in Chicago, either. Maybe Baker makes a name for himself with the Cubs too?
Designating Freel for assignment was a smart move. Trading Joey Gathright to get him wasn't.
The importance of winning this first game of an 11-game homestand can't be overstated.
And, it never hurts to remind the Brewers they have to go through Chicago to win the Central.
The Cubs (38-38) are in fourth place.
W: Dempster (5-5) L: McClung (3-2)
Chicago is at the .500 marker for the 16th time this season.
They're also 22-13 at home.
The Cubs drew more walks (3) than strikeouts (2).
D-Lee's 142 home runs as a Cubs puts him in 13th place on the all-time list.
Ernie Banks was the last Cubs player to homer twice in one game while driving in seven runs.
Aramis and Reed Johnson have both begun rehab assignments with Single-A Peoria.
Sad day for many Blackhawks fans. My two favorite Hawks, Marty Havlat and Nic Khabibulin, will not be back with the team next season:(