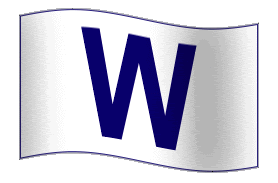 Ryan Theriot says Lou is teaching the game more than in seasons past.
Letting players learn the game from peers is effective, but takes much longer than simply teaching a player how to improve.
I give Piniella credit for taking a larger role in developing his players, both younger guys and veterans alike.
Regardless of the profession, those who continue to learn always rise to the top in his or her field.
Speaking of which, is Carlos Zambrano finally learning how to pitch?
I love that Carlos appears to be resisting his knack for strikeouts in favor of letting his defense do some work!
In Z's last five outing he's fanned four batter just once and three batters four times.
I'll keep saying that Zambrano's potential to stay healthy and chances of winning a Cy Young Award go hand-in-hand with him learning how to pitch instead of just throwing the baseball.
Strikeouts are a pitcher's friend, but when Z eases off the throttle his control improves and he's more likely to last into the seventh inning or later.
So much for Sam Fuld's hot bat at leadoff. Soriano goes 0-for-5. I just don't understand it!
If not for Fukudome's defense, I'd consider him a total bust.
Let's face it; the game's final pitch was a strike that Jake Fox should've been called out  on.
But, that's not to say Fox didn't earn the game-winning RBI. The fact that he fouled off four straight pitches to set up the full count was awesome!
At the very least, the Cubs need to take one of the last two games against Milwaukee.
That in turn would also keep Chicago from falling back to .500–a place where the Cubs are wearing its welcome thin.
The Cubs (39-38) are in third place.
W: Gregg (3-2) L: DeFielice (4-1)
For the second straight game the Cubs drew more walks (6) than strikeouts (5).
Mike Fontenot went 2-for-4 Friday, but only hit .211 in June.
Ryan Theriot is batting .323 since May 25.
Kevin Gregg has held the opponent scoreless in 24 of his last 27 outings.