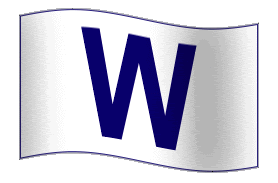 Kudos to Ted Lilly.
The guy's been the Cubs' best pitcher all season long and is deserving of his All Star nod.
According to Cot's Baseball Contracts, Lilly gets an additional $75,000 bucks for earning a spot on the Mid Summer Classic. Not a bad incentive!
I said Saturday that I wouldn't want anyone on the mound for a big game other than Lilly. Sunday showed why.
The lefty keeps pitching simple: pound the strike zone and limit walks.
Seven times this season, including Sunday, Ted has not walked a single batter. That's huge!
Aramis, Reed Johnson and Angel Guzman need roster spots by Monday.
The likely candidates to go are Sam Fuld, Jake Fox and Andres Blanco.
If I'm Hendry, I send Fuld back down along with Jeff Samardzija and Mike Fontenot. Keep Fox and Blanco coming off the bench.
The return of Guzman to the pen goes without saying, but I still believe the Cubs need additional help in middle relief.
Such reinforcement most likely comes via trade. And, if at all possible, I'd avoid dealing Jake Fox to get it. The guy has potential All Star written all over him.
So far so good with Fukudome batting leadoff. I hope Lou keeps him there until the All Star break.
If Aramis sparks the offense the way many of us believe he will, perhaps the Cubs wrap up the first half of the season in second place?
At the very least, imagine what Ramirez's return to the order will do for the hot-hitting Derek Lee!
The Cubs (40-39) are in third place.
Chicago is 8-4 in Sunday games, it's highest winning percentage for any day of the week.
The Cubs are 24-14 at home.
Ted Lilly leads the club with 13 quality starts.
He's also 6-1 when receiving four or more runs of support.
Jake Fox has four home runs in his last 11 games.
On the homestand, D-Lee is 5-for-15 with 10 RBI, four runs scored and three home runs.