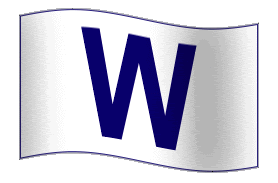 The Cubs went 24-25 since losing Aramis to the DL May 9.
What's more impressive is Chicago didn't lose any ground in the division race, either.
They were 2.5 games back on May 8 and began Monday night's game 2.5 back as well.
No question Aramis adds more punch to a lineup that's on the upswing, especially considering the protection he'll provide D-Lee batting in the three hole.
Shame on me for writing Derek Lee off earlier this season. Since May 16 Lee is batting .343 (43 total games) with 14 home runs and 38 RBI during that stretch.
Look closer at the numbers and Lee has 18 multi-hit games, 11 multi-RBI games and has also knocked in 16 runners with two outs. That's big-time!
With Aramis batting behind him is it possible Lee goes 30 plus home runs and 100 plus RBI?
Since batting .167 with RISP as a team in June, the Cubs have rebounded nicely this month batting .333 (17-for-51) with RISP, and these number are sure to improve if Aramis stays healthy.
Plus, if the starting staff keeps pace with its league leading 52 quality starts the Cubs may be on the brink on reclaiming the division lead.
And, wouldn't that be a pleasant accomplishment before the All Star break!
Wells is taking a page out of Ted Lilly's book by challenging hitters with strikes. In 11 starts Randy has 49 strikeouts vs. 14 walks.
It's a big reason why he's also the first Cubs rookie to win four straight starts since Kerry Wood in 1998.
Didn't want to see Sam Fuld go back to Iowa, but it makes sense. I would have only been upset with the roster moves had Fox been sent back down.
Never agreed with Hendry's decision to trade Joey Gathright for Ryan Freel. At least the Cubs get a PNL after dealing Freel to Kansas City this afternoon.
With Aramis, Reed Johnson and Angel Guzman back, the Cubs are without excuses for playing .500 baseball.
At last, Chicago is primed and ready to make its move on St. Louis and Milwaukee!
The Cubs (41-39) are in third place.
W: Wells (4-3) L: Jurrjens (6-7) S: Gregg (15)
Since June 1, 25 of the Cubs' 31 games have been decided by three or fewer runs.
Chicago is 25-14 at Wrigley and also unbeaten in its last three home series.
Wells has pitched at least six innings in nine of 11 starts.
Fukudome is 6-for-16 in the leadoff spot and his .292 average with RISP leads the team.