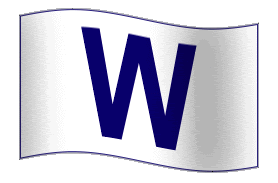 In all fairness, the Cardinals gave away Game 1 of Sunday's twin bill.
That's not to take anything away from Zambrano's wonderful outing, including his home run.
But the Cards' dropped infield popup, missed force play at home, and error by Pujols' led to the Cubs' final three runs.
Other than this fortunate string of miscues, it was another ghastly performance with RISP (1-for-12).
Is there a Cub more in need of the All Star break than Soriano?
Some good signs, however, during Soriano's 2-for-4 day. He didn't hit the ball hard, but found a couple of holes for two base knocks. And my goodness, he even drew a walk!
If I'm Lou, I'd fine my pitchers for every batter walked in front of Pujols.
It's inexcusable.
Sean Marshall looks stronger with each outing. Marmol, on the other hand, appears lost trying to find the strike zone. Strong finish by Gregg to close the game.
Another addition of the Cubbie Special in the night cap: solid pitching and no offense.
You can't go down looking in the bottom of the ninth trailing by two runs, and I don't care how far the strike zone expanded.
Marshall being the only lefty in the pen forced Lou into playing Sean as the left fielder.
That's cute and all, but also goes to show Chicago should take a strong look at signing another southpaw, maybe B.J. Ryan.
Fancy catch by Reed Johnson. Looked like he trapped it, but close enough!
I've grown tired of Joe Morgan's analysis–or lack thereof–on Sunday Night Baseball. The man rarely answers a question directly and defends the players to no end.
For Morgan to even suggest Adam Wainwright didn't purposefully interfere on Theriot's attempted double play throw is ludicrous.
Crushed a breakfast burrito from Bar Louie before game one. It's part of their game-day special and highly recommended!