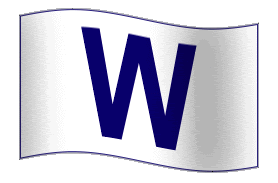 Staying above .500 is the name of the game.
Twenty times already this season Chicago has leveled its record at .500. From here on out that number can't change if the Cubs are to win the division.
I heard Tim Kurkjian on ESPN Radio say 90 games will win the NL Central. For Chicago to reach that mark they'll have to post a minimum of 46 wins in the second half.
It's very possible, of course, but sticking around the .500 marker for much longer won't cut it.
Thankfully, there's not a better team to start the second half against than Washington. Winning this series is crucial to powering the Cubs back above .500 for good.
This looked like the Harden of 2008: A pitcher who dominated the opposition with fastballs and changeups. It's all about consistency and health with Rich.
Derek Lee has simply been a machine since mid May. The best part is exactly half (9) of his 18 home runs have come with men on base, tonight's solo shot being an exception.
So much, however, for Bradley being 'back' at the plate (0-for-5). The good news is he'll see more at-bats from the right side against another left-hander Friday evening.
Guzman to Marmol to Gregg: one run, one hit and one strikeout. I love it!
Apparently, Soto's return from injury is ahead of schedule. Maybe the time spent rehabbing in Arizona gets Geo in better shape. He could use the conditioning since showing up at spring training overweight.
I've become a fan of Keith Moreland on the Cubs broadcasts.
After filling in on the TV side last weekend, he's smoothly transitioned to the radio side with Pat, as well.
Obviously, you can't replace Santo's enthusiasm, but Moreland does a terrific job of providing thoughtful commentary. Good for him.
The Cubs (44-43) are in third place.
W: Harden (6-6) L: Lannan (6-7)
Rich Harden is 4-1 on the road vs. his 2-5 home record.
The Cubs continue to lead the majors in quality starts (56).
Chicago was last at the .500 mark during the All Star break in 2003 (47-47).